When Trump Tweets These Companies Weep
In our social media-fueled world, it should come as no surprise that this week's market action started with a tweet.
They didn't even get to ring in 2017 at the New York Stock Exchange without the president-elect jumping all over one of the country' most recognizable public companies.
Early Tuesday morning, Trump raked General Motors over Twitter's red-hot coals, calling for America's largest automaker to move production of its popular midsize sedan north of the Mexican border…
Chevy wasn't the only automaker to hear from Trump. Toyota also received a lashing from the president-elect for its plans to build a plant in Mexico. Meanwhile, Ford made Trump's nice list as the company announced plans to ditch a new plant in Mexico and add 700 jobs to a Michigan facility.
With just a few taps on a smartphone, the world's biggest auto manufacturers are on notice. It's no surprise that some investors are worried about Trump's tweets about public companies. After all, there's nothing worse than unexpected news derailing a trade. And now we have to deal with the most powerful person in the world sending out potentially trend-busting tweets? It's tough to catch a break these days.
But if you're concerned that the Trump train is going to derail one of your stocks, the internet has your back…
"Trigger, a smartphone application that tracks movement in financial markets, unveiled Tuesday an update that allows users to set alerts for when Trump tweets about a company in which they hold shares," The Hill reports.
Maybe that app is worth a second look… just in case a new Trump tweet sends billions of dollars in market cap up in smoke.
Speaking of burning billions…
The Retail Recession is Real
Brick and mortar retail is collapsing.
Shopping malls are dying much faster than anyone anticipated. As the collapse accelerates, it threatens to shake the entire retail sector to its core.
Retail stocks were granted a brief reprieve during the post-election rally. But the comeback is looking more than a little shaky as some of the biggest names in the sector are now starting to roll over.
All the major stores are reporting horrendous holiday sales numbers. Macy's and Kohl's notched sales declines of more than 2%. And Macy's and Sears are both shuttering more stores.
The news sent many retail stocks cratering. Macy's stock dropped almost 14% yesterday. Kohl's shares lost 19% on the day. Nordstrom was the best of the worst, falling a little less than 7%.
The slow-motion collapse of the traditional retailers is starting to pick up steam. As this story continues to unfold, the retail sector is becoming a wasteland. Jeff Bezos and his army of same-day Amazon delivery drivers have gutted every brick and mortar store in their path. Derelict shopping malls dot the country. It's not a pretty picture.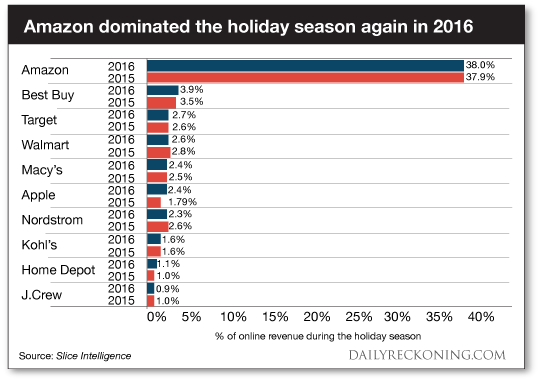 The Wall Street Journal notes that Amazon has absolutely dominated the holiday shopping season. The online superstore recorded ten times the sales of the next biggest seller.
Physical stores don't stand a chance against Amazon. The writing is on the wall.
Sincerely,