While Gold Crawls, This Metal Powers Higher
Yesterday's rally was a big, fat win for the stock market.
The S&P 500 shot to an all-time closing high on Tuesday. So did the Nasdaq Composite.
But the sheer magnitude of the move wasn't that impressive. The major averages have been stuck in such a tight range over the past few weeks that a 0.5% move in the Dow was enough to get traders to bust out the champagne
But you won't find anyone dusting off a Dow 20,000 hat. The media blew through its canned Dow 20K stories way back in December. It's all too fitting that financial journalists have nothing left to say about this arbitrary milestone now that the market is finally knocking on the door…
Of course, the real moves under the surface of the major averages have earned even less attention. That's too bad. Because if you want to actually profit from the next thrust higher, you have to know what stocks are fueling the fire.
Yesterday, the market gave us some clues. And since most folks refused to pay attention, I have no doubt they'll miss out on this next lucrative trade that's hiding in plain sight.
Just barely scratching below the market's surface reveals a couple of key sectors helping stocks up over the hump.
One of these is materials.
The Materials Select Sector SPDR (NYSE:XLB) is sprinting to new all-time highs. These industrial, chemical, and metals companies are reaching out to grab the torch as new market leaders.
"This is one of the most economically-sensitive parts of the market and is closely tied to the direction of commodity prices," John Murphy explains over at his Stockcharts.com blog. "Today's record is a vote of confidence in the global economy. It's also a bet on higher economically-sensitive commodity prices and shows that the reflation trade is alive and well."
Out of all the materials stocks, the metals are top dogs. They could even outperform our gold miner trade over the next few weeks…
While the world is distracted by presidential press conferences, no one's paying attention to the commodity space. Most folks still aren't interested in a commodity market that's produced nothing but losses over the past several years. But the market says it's time for these forgotten industrial metals to shine once again. And we can't ignore the breakouts in copper, steel and aluminum
Copper quietly jumped to prices not seen since 2015 yesterday. Meanwhile, aluminum giant Alcoa is set to rip higher today after beating earnings estimates.
Copper has endured a painful downtrend for six years. The metal has now exploded out of its long-term downtrend after building a solid base last year. It's time to get ready for some explosive gains…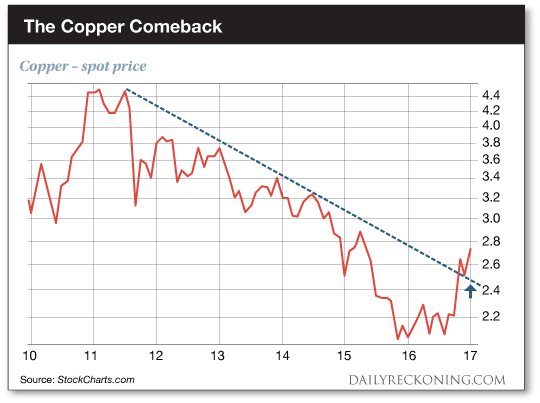 The next leg of the metals rally starts now. You won't want to miss it…
Sincerely,