Save Your Portfolio – Sell These Losers Today
There's nothing worse than a group of stocks trending lower during a roaring bull market. Unless you're looking to go broke, these are the stocks you need to purge from your portfolio.
Luckily, they're easy to spot.
These poisonous stocks emit a radioactive glow. Even a novice investor can't miss these losing positions draining the gains from his brokerage account.
While most major sectors are humming along this year, one in particular is falling behind. If you don't clean these losers out of your portfolio, you're at risk of even bigger losses.
In case you haven't figured it out, I'm talking about retail stocks.
Retailers are off to a terrible start in 2017. The S&P Retail Index ETF (NYSE:XRT) is off by nearly 3% year-to-date, compared to a gain of almost 6% for the S&P 500. Retailers and the major averages began to part ways during the 2016 market bottom. After a weak start to the year, the gap is widening…
Retailers are in big trouble. The number of retailers with distressed credit ratings has tripled since 2009, according to Moody's. the firm estimates a record number of retailers will enter junk territory over the next five years.
"The main factors causing downgrades are stressed liquidity, weak credit profiles, challenged competitive positions, sponsor ownership and erratic management structures," MarketWatch notes.
And don't forget Amazon…
The undisputed heavyweight champion of e-commerce has become a one-man retail wrecking ball. We've highlighted the ongoing meltdown of the brick and mortar retail sector for quite some time in these pages. While traditional retailers are still attempting to lure you into their stores with coupons and sales, Amazon is sneaking into your home and your everyday life. It's clear Amazon is dominating the retail landscape for one important reason: It's just plain smarter than the competition.
The retail sector has become a wasteland. Jeff Bezos and his army of same-day Amazon delivery drivers have gutted every brick and mortar store in their path.
As a result, no one's really expecting stellar performance from any of the major retail brands this earnings season. But even the added cushion of low expectations can't stop some of these stocks from crashing.
Want more retail carnage? Check out Target Corp. (NYSE:TGT) 
We were talking up Target as recently as November when big-box retailer reported improved traffic and sales. The stock bounced off its lows, gaining 20% in the weeks leading up to Black Friday.
Unfortunately for shareholders, Target's rebound was short lived. Management slashed its fourth quarter sales outlook after the holidays. But even with the bar lowered all the way to the floor, Target tripped and fell flat on its face…
Target whiffed on all its fourth quarter numbers. It missed revenue expectations. Earnings weren't exactly rosy, either…
"The bottom-line results were even uglier: fourth quarter net earnings plunged 42.7% to $817 million, resulting in earnings of $1.45 per share," Forbes reports. "The per-share result was five cents lower than the analyst consensus and marked a 37.6% decline compared to the year-ago quarter."
Management blames "rapidly-changing consumer behavior" for this disaster of an earnings report. But that's just a fancy way of saying Amazon is eating their lunch.
By the end of the day, Target shares had dropped nearly 13%. That brings the stock down to levels we haven't seen since November 2014.
Look away if you're squeamish. This is one ugly chart…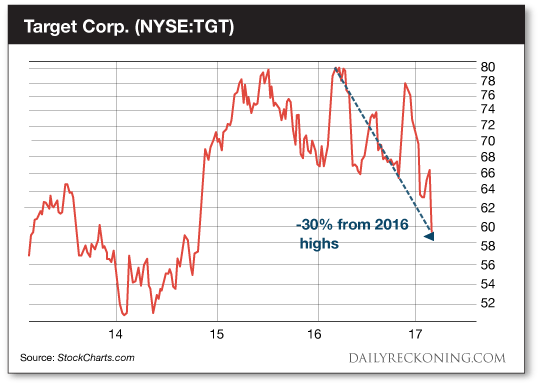 Targets nosedive is sticking out like a sore thumb. I don't know if this marks the beginning of the end for the retailer. But the company has proven over the past year that's it's still not capable of seriously competing with Amazon.
As the market glides toward the end of earnings season, it's once again telling investors to avoid these retail disasters like the plague. Meanwhile, we'll continue to stick to our Amazon trade while big retail struggles to keep up…
Sincerely,