You've NEVER Seen This S&P 500 Chart Before
I guarantee you've never seen this chart of the S&P 500 before.
But as I'll show you in a moment, you could use one just like it to pull double-digit gains out of the market over the next few weeks…
Alright, enough with the suspense. Here's the chart:
"I call it the S&P 500 Kinetic Composite," explains my colleague Jonas Elmerraji. "The S&P 500 Kinetic Composite chart is unique because it's not a typical price chart. Instead, it's a special composite of the average calendar year for the last 20 years' price action. Every single tick in the S&P 500 since the first trading day of 1997 is factored into that chart."
This chart boils down the times when markets are most likely to be in motion year after year – thus the "Kinetic" part of the name.
Thanks to Jonas' research, it gives us a ton of actionable data.
"I developed the Kinetic Composite chart as a way to visualize the seasonally strongest times year after year to own stocks," Jonas continues. "In other words, from a statistical standpoint, when is the wind at investors' backs?"
There are a ton of insights just on this one chart.
For instance, it's common knowledge that the stock market has a long-term persistent uptrend. Plenty of academic research has been done on the subject. Well, the chart above shows you that upward slope to the S&P 500, clear as day. In other words, Jonas explains, we can see that the primary trend in the market is still up over the last 20 years.
Where things get interesting is what the less obvious data show us.
For instance, you know the old adage sell in May and go away? That's confirmed by the Kinetic Composite of the S&P. The composite stalls out on May 2, and it stays sideways stalled until October 1 – that's day 272 on the chart. Again, this isn't "new" information – there have been plenty of academic studies that show that the market dips in the summer months.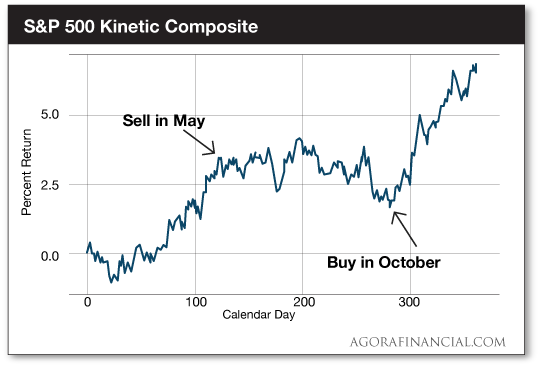 The difference here is that you don't need to spend months crunching data or digging through financial research journals to find it. The big turning points are right there on the Kinetic Composite chart.
Anybody can see them.
Things get really interesting when you use the S&P 500's Kinetic Composite chart to make trading decisions.
"Just by avoiding the sideways period on the chart, you could increase your returns on the S&P 500 by 24% every year, while sitting on cash for 41% of the year," Jonas says.
"For a $100,000 portfolio invested in the S&P 500 over those last 20 years, simply following the Kinetic Composite and making an extra two trades a year would add up to an extra $124,830 in investing profits versus buy and hold!"
So you're making a ton more money while taking a ton less risk (since you're out of the market almost half the year).
That's what happens when you invest when the wind is at your back.
My Eureka Moment
Chances are, you don't just own an S&P 500 index fund.
If you're reading this letter, you're probably an active investor and you're looking for ways to wring more money out of the market than buy and hold allows.
That thought is what led to my eureka moment…
You see, while the S&P 500 Kinetic Composite provides us with some useful insights, the S&P has been studied to death at this point. But what if we took that same approach and applied it to every stock on the planet?
Then we'd have the same instant insights on a mountain of potential trades – and enough that we could just about guarantee something was about to experience a kinetic move.
"For the last 14 months or so, I've been accumulating the data and computational power to generate a Kinetic Composite for any stock ticker on the market," Jonas says. "Or even for all of them."
We're just barely scratching the surface here…
I'll be telling you more about it in the weeks to come.
Meanwhile, Jonas has one actionable takeaway for you today – one that could pay you a 13% gain in the weeks ahead…
A Kinetic Move Begins in This REIT
One stock is opening a window to a kinetic move that starts today…
It's Essex Property Trust (NYSE:ESS), a $15 billion real estate investment trust that owns 250 apartment communities.
"But none of that matters – we're focusing on the price action today," Jonas explains. "Essex's Kinetic Composite shows that this stock bottoms around March 2, and then rallies until July 10. Over the last 21 years, that pattern has had a 90% win rate in the market, paying investors a 13% gain, on average."
When you're looking at statistical market patterns, it's just as important to take a close look at what happens in the rare years when the pattern doesn't work. For ESS, the worst downside in that stretch was a 5% loss. That makes ESS a great example of a low-risk, high-reward opportunity right now.
If you decide to buy Essex Property Trust here, consider parking a 5% trailing stop below your entry price. That guarantees a quick exit if ESS starts meaningfully diverging from its historical pattern.
Sincerely,