Buy This Red-Hot Trend as U.S. Stocks Stall
The stock market is ripe for a pullback.
So what's a trader supposed to do as stocks cool off?
The traditional safety trades like utilities, treasuries and gold just don't cut it anymore. After all, it's 2017. Why not dive headfirst into an overpriced tech IPO?
As the S&P 500 broke its silent streak and finally tumbled 1%, some traders shrugged off the news and went to work buying shares of lukewarm tech IPO Snap Inc. (NYSE:SNAP).
While financials and retail stocks continued to sink Wednesday, Snap shares soared. The stock jumped more than 7% yesterday as traders attempted to run the price back toward its opening day range from earlier this month.
Will the rally last? Only time will tell. We certainly aren't in a rush to grab shares. In fact, the market's flashing a much more lucrative opportunity right now — one that doesn't involve gambling on new social media stocks.
Everyone's focused on U.S. markets right now. But as the S&P sags, an even bigger opportunity is opening overseas.
That's right – emerging markets are starting to perk up. Even as the Fed raises rates here in the U.S., the outlook for down and out emerging markets is brightening.
Common sense says that rising rates lead to a stronger dollar—which in turn hurt emerging markets. But right now, the opposite is happening…
"Developing-nation stocks are on longest winning streak in seven months, and Mexico's peso and South Africa's rand led a measure of emerging currencies to the highest level since May 2015," Bloomberg reports. "The iShares MSCI Emerging Markets ETF, an exchange-trade fund that tracks developing equities, saw inflows of $197 million on Monday, the second in a week."
With emerging markets springing back to life and U.S. stocks losing steam, this is perfect place to turn for new trades. For today, I want to focus on China.
While the major averages banked double-digits gains in 2016 here in the U.S., international stocks weren't as fortunate. Chinese shares also had to dig out of a nasty bear market. Even though the Shanghai Composite slowly crept higher off its lows, it still ended 2016 down double-digits.
But 2017 has breathed new life into Chinese stocks. The iShares China Large-Cap ETF (NYSE:FXI) is already outperforming the S&P 500 by a wide margin this year…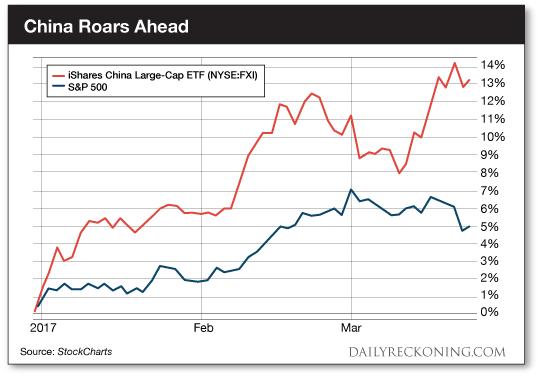 Chinese stocks are finally catching a bid this year. And some of the most constructive setups we're seeing right now are in Chinese ADRs.
One of these strong stocks just happens to be Alibaba (NYSE:BABA)—China's king of online retail.
You probably remember how Alibaba was ridiculously overhyped when it debuted on the New York Stock Exchange back in 2014. After ripping higher in its debut, it completely fell apart. Typical IPO hype – followed by a fantasy-crushing crash.
But after more than a year in the gutter, Alibaba is coming back to life. The stock has done more than gain some positive momentum. In fact, Alibaba and other Chinese ADRs are blasting off left and right.
The trading action so far this year has been more than enough to get BABA shares over the hump. Earlier this year, Alibaba shares bucked the short-term correction that began in early October. The stock retraced back toward $85 and filled its August gap. And shares haven't turned back since. Alibaba stock is now up more than 20% year-to-date.
Back in early January, we told you the $100 zone would probably act as a magnet for BABA as its rally developed. Yesterday, the stock bounced off support at $104 and continues to climb. That give you another shot to jump on this red-hot trend as BABA pushes back toward its six-month highs.
Don't miss this opportunity for you to ride this China comeback play to some serious gains…
Sincerely,