Trump Ends the War on Coal – Here's How You Profit
Trump just ended the war on coal with the stroke of a pen.
For years, the government has been hard at work trying to kill coal in favor of greener alternative energy.
Not anymore.
Trump signed an executive order this week that rolls back Obama-era rules curbing carbon emissions. Specifically, Trump's order requires the EPA to repeal the Clean Power Plan – a hefty set of rules imposed on coal power plants.
Trump's reasoning behind the order is to "increase the nation's 'energy independence' and to restore thousands of lost coal mining jobs," the New York Times reports.
Whether the plan works is up for debate. The effect on coal stocks isn't…
The big energy winner of 2016 wasn't oil, gas, or solar. It was coal.
Surprised? You should be. Conventional wisdom says coal is dying a slow death. Thanks to waves of new regulations, cheap natural gas, and a push for cleaner energy sources, coal's going extinct.
That's what makes last year's run so impressive…
The VanEck Vectors Coal ETF (NYSE:KOL) finished 2016 with a gain of 98%. That's almost a clean double from one of the world's dirtiest energy sources.
But last year's huge rally wasn't normal behavior for coal. Before its 2016 run, the sooty stuff endured a terrible bear market. In fact, it was one of the worst investments you could possibly make.
The industry was completely falling apart. Coal plants shuttered. And demand from China tanked. For nearly five years, coal stocks went nowhere but down. Even though it continues to generate a significant portion of this country's energy, coal became one ugly investment.
It's been downright impossible to make money off the stuff on the long side. Until last year.
Out of nowhere, coal shares bottomed out. By the middle of the summer, coal was on fire. That's when we decided to jump on the dead cat bounce for a trade.
We took profits on our coal play back in December for a 40% gain. Remember, price leads the news. Coal rallied all year – up until Trump won the election. Coal spiked the morning of his surprise victory, which turned out to be its high water mark for the year.
Investors knew Trump campaigned in favor of coal jobs and deregulation. But that didn't change the fact that the coal rally needed a break. Anyone who bought immediately after Trump's win was sitting on a loss until last week.
That's when coal finally broke free from nearly five months of sideways action. With a new executive order now in the books, coal is launching higher…
I'm still not sure just how the coal saga is going to end. I seriously doubt Trump's executive order will magically usher in a new golden age for dirty energy. The industry is certainly on its last legs as most of the developed world moves on to cleaner energy sources. In an age of cheap and plentiful natural gas, coal would have trouble staying in play even if we tossed every regulation out the window…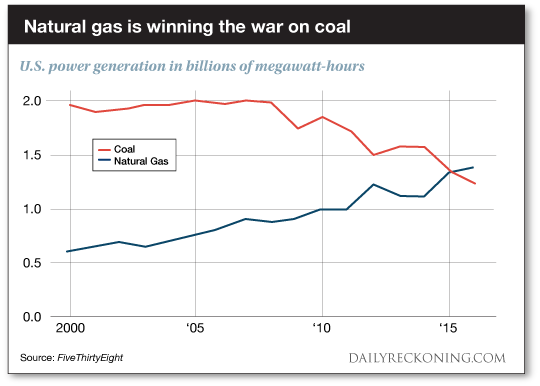 But coal presents an opportunity for a strong short-term trade as it picks up momentum heading into the second quarter. We can ride another dead cat bounce for as long as it allows – and pocket some serious gains in the process.
You don't even have to get your hands dirty…
Sincerely,