These 3 Charts Could Squash the Trump Bump
The world is descending into chaos once again.
Over the past week, we've watched the U.S. drop bombs on Syria and Afghanistan. North Korea also wants in on the action as it shows off its new arsenal. That's enough to freak out even a casual market watcher.
There's no question that the noise is getting louder. But the market's reaction is all that matters…
Today, I'm going to show you three charts that are flashing warning signals for stocks. If these trends continue this week, stock market bears are going to start waking up from their slumber.
Let's dive right in…
1. Small-caps slide
You've already seen the power of a furious small-cap rally. But the post-election comeback hasn't been perfect.
Here's a quick recap:
After a pullback in October, small caps finally raced ahead to lead the market for the first time in two years. The initial rally was intense. As of early December, the small-cap Russell 2000 had jumped 40% above its February lows thanks in part to an incredible 14-day run to cap off November trading. That was the index's longest winning streak in more than 20 years.
This is how big changes in trend happen, we noted at the time. One second, everyone hates small-caps. Just when the last seller leaves the building, a furious rally begins to take shape. And the powerful rally that sent the Russell to new highs was potentially the start of an even bigger move.
But the small stock rally hasn't followed through in 2017. As of this morning, the small-cap Russell 2000 is in the red for the year. It's gone nowhere since topping out in early December.
Remember, we like to see small-cap stocks lead the market. Investors buy smaller stocks when they are willing to take more risk. That's not the case right now.
The Russell already breached its 50-day moving average last month. If it loses any more ground here, we could be in for some more downside action.
Small-caps aren't the only formerly-strong sector to take a dive this month…
2. Transports slip 
After last summer's Brexit bottom, the Dow Jones Transportation Average was one of those down and out groups that started to power higher. Transportation stocks like airlines had been absolute dogs for weeks. But as the market bottomed out, these sickly stocks began to outperform the major averages once again.
At the time, it was important for the lagging transportation stocks make up for lost ground. After all, transports endured an actual bear market as the major average chopped along for the past two years.
But like their small-cap counterparts, the transports have lost their mojo in 2017. The Dow Jones Transportation Average topped out on the first day of March. This false breakout led to a swift move lower. As of this morning, the transports are down more than 7% from their peak. That's close to correction territory…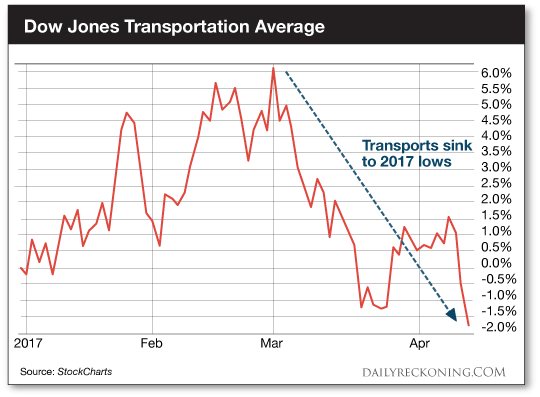 The transports also play a key role in measuring market moods. This is where a market timing tool called Dow Theory comes into play. Dow Theory uses two indexes to measure the market's primary trend: The Dow Jones Industrial Average and the Dow Jones Transportation Average.
The idea is that the two groups combined can measure the overall health of the economy. If the industrials are performing well along with the transports, we can assume goods are being made and delivered. In other words, the economy is humming along. The transports slipping lower could turn out to be an early warning sign that the industrials are in for a bigger drawdown as we approach the summer.
While weakness in small stocks and transports are flashing red, gains in one of the market's most-watched fear trades continue to pile up…
3. Gold 
As the dollar continues to weaken, gold futures are ramping up the gains.
Just last week, gold spiked to 5-month highs after Trump launched his missile strike on Syria. The Midas metal settled at new highs last week, smashing above its 200-day moving average and extending its year-to-date lead over stocks.
Gold's not letting up on the gas as we dive headfirst into the new trading week. The metal is sneaking into the green early this morning. It's now just $10 shy of $1,300 – a price gold hasn't seen since before the presidential election.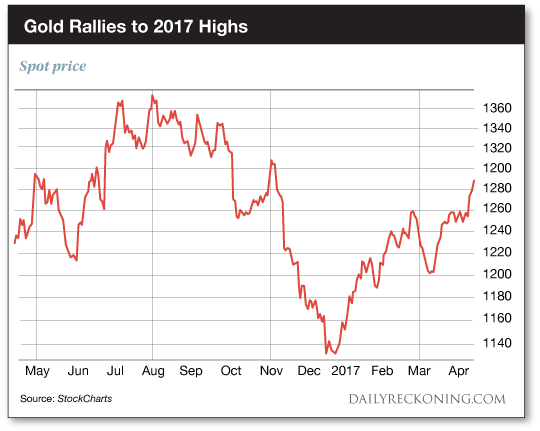 "Gold is going higher here," Prestige Economics president Jason Schenker told Bloomberg. "We see a gradually weakening dollar on trend. Although we expect two more rate hikes this year — September, December — and four rate hikes next year, what we also think is that a lot of that's priced in."
We'll continue to keep a close eye on gold and a soft stock market as the new trading week kicks off this morning. If these new trends continue, we could see a deeper market dip over the next several weeks.
Sincerely,