A Perfect Storm Pushes Homebuilders Higher
The stock market is stuck in the danger zone.
Futures are sliding early this morning, eating into yesterday's comeback move.
But there's one trade that's laughing in the face of the recent market weakness. In fact, it's breaking out right now before our very eyes…
I'm talking about the homebuilders.
Housing stocks are defying all the naysayers. Rising rates? No problem. In fact, rising rates are beginning to push potential buyers off the sidelines in many markets. With the specter of a larger monthly payment looming, buyers are motivated to get off the couch and lock in their rate.
Even the echoes of the housing bubble and financial crisis aren't dragging down the sector. The Wall Street Journal notes that the percentage of homes with negative equity just hit the lowest level since the bubble burst. After more than a decade of pain, these stocks are breaking out. In fact, the chart you're about to see shows exactly why the homebuilders are beginning the first leg of what could be a market-leading move higher…
I know this is a busy chart. But I want you to focus on the orange and dark blue rows. These represent annual multifamily rentals and single family housing starts. Check out how single family home construction peaked in 2005.
Multifamily rental starts were 33% of residential construction projects during the fourth quarter of 2016. Back in 2006, multifamily rentals made up just 10% of all housing starts.
What gives?
It goes back to the bursting of the housing bubble. When the real estate market crashed, builders abandoned single family home projects for rental units. No one was coughing up the big bucks to buy McMansions anymore, they reasoned. So they focused their attention elsewhere.
Fast forward to 2017 and we're left with a serious single family home shortage in many markets just as millennials are starting to ditch their apartments in favor of homeownership. Demand for homes is increasing and builders must switch gears. This is the perfect storm that will unleash the new homebuilder bull after more than decade of terrible performance.
Homebuilder stocks have even managed to maintain their strength during the recent market pullback. While the major averages topped out on March 1st, the iShares U.S. Home Construction ETF (NYSE:ITB) continues to trend higher. It's up more than 6% since the beginning of last month. The S&P 500 is in the red over the same timeframe.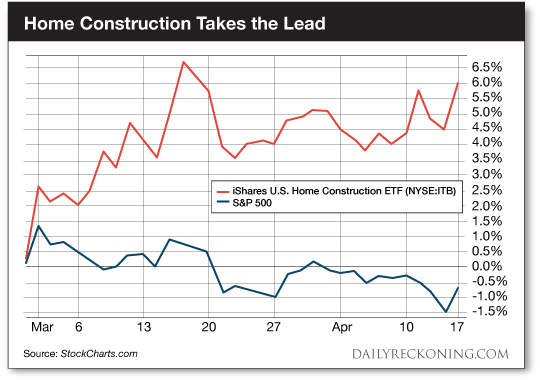 Remember, owning homebuilder stocks was dead money walking just a few months ago. Not only did this group of stocks endure not one but two major drawdowns in 2016, it also tanked to new 52-week lows during last year's winter correction.
That's quickly changing. We're now a full decade removed from the housing bubble. Inventories are tight. Buyers are lined up and ready. It's time for a monster rally after ten years of little to no substantial gains from the homebuilder stocks.
Homebuilder stocks that have gone from zero to hero in 2017. The whipsaw moves that frustrated investors over the past 12 months have subsided. Even as the post-election rally hits some turbulence, homebuilders have quietly become some of the strongest stocks on the market.
Sincerely,