The Next Big Commodity Crunch (3 Must-See Charts)
Stocks are going nowhere this week.
The Dow dropped six points yesterday. The S&P 500 managed a measly one-point gain. Despite the political noise, the major averages aren't budging. Aside from a few earnings movers, the market hasn't offered us much excitement in May.
But commodities are a different story.
Oil's now down more than 14% from its April highs. And its falling fast. Crude settled lower by almost 5% yesterday, making the trip to nine month lows.
Thursday was crude's worst performance since November 29th—the day before an eleventh-hour deal OPEC cobbled together to cut supply by 1.4 million barrels a day. The surprise announcement shot crude higher by as much as 8% early the next morning.
That spark ignited oil's quick run above $55, which turned out to be the commodity's high water mark heading into 2017.
It's becoming painfully clear that production cuts can't save oil. We're seeing a growing glut of oil amid weaker than expected gasoline demand and a resurging shale boom here in the U.S. That's simply too much pressure for crude to handle right now.
Take a look for yourself:
Oil isn't the only commodity that's falling through the floor right now. In fact, you'll find carnage almost everywhere you look in the commodity market.
Base metals are cratering this week.
Earlier this week, a handful of industrial metals started sliding lower. Copper dropped 3% in a matter of hours. Nickel, Zinc, and lead also took a beating.
Chinese manufacturing data numbers for April came in weaker than expected, dropping to seven month lows. That's never a good sign for industrial metals. Traders are slamming their sell buttons—and the results aren't pretty.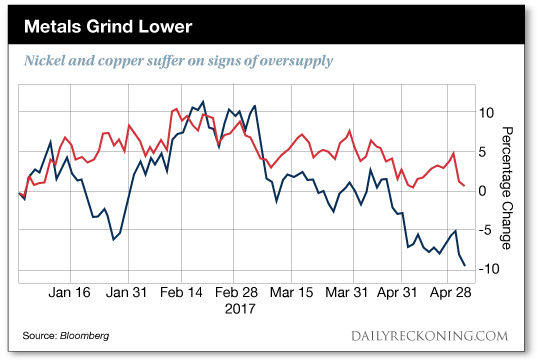 "Copper posted the biggest two-day loss since 2015 as industrial metals plunged amid concern over demand in China and speculation that the Federal Reserve will further raise U.S. interest rates this year," Bloomberg reports. "Demand concerns are mounting just as copper stockpiles tracked by the London Metal Exchange jumped 25 percent in two days, the most since March, signaling ample supplies. The Bloomberg World Mining Index of equities fell for a fourth day as iron ore tumbled in Dalian and steel plummeted in Shanghai."
The carnage isn't limited to the base metals, either.
Precious metals are feeling the wrath of selling as we approach the end of the trading week.
Silver is getting hit especially hard this month. The poor man's precious metal is headed straight down for the third week in a row. After topping out above $18.50 in April, silver has knifed through support to $16.35. Another bad day could take it into the red for the year.
Then there's gold. The safe haven fared much better than silver or mining stocks in April. But this week, it's beginning to fall apart. After failing to top $1,300 last month, gold futures retreated to their trading range. And once price broke below $1,250, the selling pressure became more intense.
Yesterday, gold futures lost $20 to finish the session below $1,230 for the first time since March.
Check it out…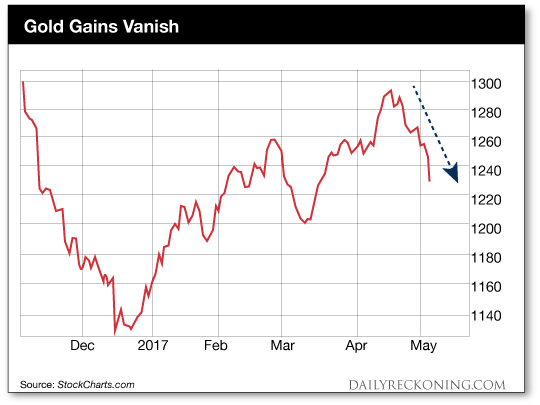 So far this morning, energy and the metals are enjoying a reprieve for the heavy selling we've seen this week. But with all the broken charts popping up in the commodities space, your best move is to stay away.
Sincerely,