"Alexa, Order Triple-Digit Gains"
There's a reason we keep CNBC on mute in the office.
First, we don't want the financial media blasting us with useless noise while we're trying to dig up new trades.
We also don't want Jim Cramer triggering any rogue pizza orders…
Cramer and the gang were discussing the new Amazon Echo on Squawk on the Street early Tuesday morning. During the conversation, Cramer says the phrase "Alexa, order me a pizza".
That's all it took for more than a few unwanted pizza orders to trigger on any devices within earshot of a viewer's television. Anyone with a pizza order saved on their device had to scramble to cancel it, and many of them took to Twitter to joke about the misunderstanding…
But Amazon's Echo is much more important than a handful of early morning pizza orders. That's especially true now as the mega-cap tech companies continue to dominate the stock market.
It's no secret that big tech companies like Apple and Amazon are in the midst of historic bull runs. All the usual suspects are ripping higher in 2017. Apple stock is up 34% year-to-date. Facebook shares are up 31%. Google is up 21%. Amazon is up 28%. You get the idea. These mega-cap tech darlings are taking turns slaughtering the market even on days when most stocks are in the red.
Each of these tech heavy-hitters owns an important niche. Google owns search. Netflix owns streaming. Facebook dominates social media.
Then there's Amazon.
Earlier this year, we predicted Amazon would own voice (on top of its e-commerce dominance) if the company continues developing its Alexa software and associated products.
Now we have a new Echo on the way. It's called the Echo Show and it features a touchscreen display that will enable video calling and monitoring of your home's security cameras through the Wi-Fi connection.
Of course, the Alexa software will do the heavy lifting. We're talking about a product that's more than a glorified wireless speaker that displays the weather. Amazon is developing a fully-integrated communications hub for your home.
The software is winning over customers. Amazon will control the market of more than 70% of all voice-enabled speaker users in the U.S. this year, according to Tech Crunch. The next closest competitor is the Google Home at less than 24%. The also-rans Lenovo, LG, Harmon Kardon, and Mattel only account for about 5% of the voice market.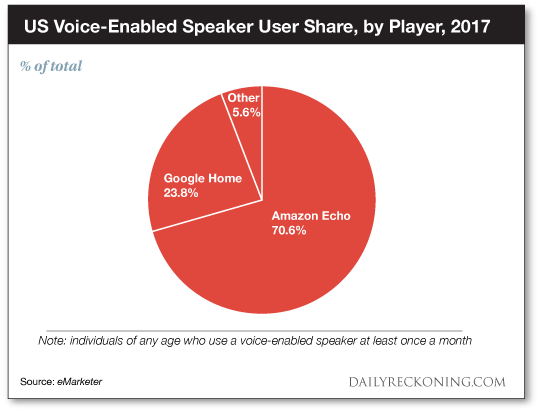 The "voice assistant market" is growing at an incredible rate right now. Siri, Alexa and Cortana software are expected to grow a whopping 23% this year, eMarketer predicts, with more than 60 million U.S. users turning to their virtual assistants at least once a month.
Amazon is making big moves in the voice space that we simply can't ignore. Management has said that Echo sales are up nine times compared to last season. That's incredible growth for a relatively new consumer technology.
It's no secret that Amazon's online marketplace is gutting traditional retail stores. But with the addition of a winning voice platform to its offerings, Amazon is cementing itself as one of the most powerful consumer companies on the planet.
Voice tech is quickly becoming the investing story of 2017. With Amazon taking over the space, it's clear that Alexa will help propel the company's growth well into the next year. If Amazon can continue to wow investors, we could be sitting on triple-digit gains by the end of the year…
Sincerely,