Cyber Chaos Strikes Again! Here's How to Protect Yourself…
Don't say I didn't warn you…
Exactly one week ago, I briefly mentioned rumors of a new computer virus that could take over a PC with a single email.
Days later, another unique virus would quickly become one of the biggest cybersecurity threats of the year.
Did I use my awesome psychic powers to predict this massive cyber-attack? Nope. The stock market was my Magic 8-Ball…
While some scary news never hurts, the cybersecurity sector began its comeback run long before the latest string of attacks thrust the industry back into the spotlight. Once again, it was price — not the news — that tipped us off to this opportunity.
We'll get to these stocks in just a minute. First, let's dive into the details of the hack…
A ransomware virus now known as "WannaCry" is taking over files and demanding $300 to restore access. According to multiple media reports, more than 200,000 computers in at least 150 countries have fallen prey to the hack.
The virus opens a window on your computer that looks like this:
The ransomware will encrypt your files then threatens to delete them if you don't pay within three days. Then the price goes up. The malware deletes your files if no payment is made after seven days…
Experts warn that the chaos inflicted by the computer virus isn't going to disappear anytime soon.
"The attack spread aggressively to hit computer networks run by governments, hospitals and businesses across the globe, with FedEx Corp. and Hitachi Ltd. among those hit over the weekend," MarketWatch reported early yesterday. "Cyber security experts fear more havoc on Monday as people return to work and unlock their computers."
A hacker holding your personal files for ransom is serious business. And I don't have to tell you that cyber criminals are everywhere. It's clear they're finding new and creative ways to steal your information (and money) every single day. Corporations and cybersecurity officials are scrambling to protect their most sensitive information.
But the "WannaCry" ransomware is already acting as a wake-up call.
The attack was front-page news and occupied plenty of air time Monday morning. The lessons of this attacking are becoming all too clear. Fact is, we're way behind the curve. Hackers are catching up with major corporations that haven't done enough to protect sensitive customer data.
Need more proof?
"WannaCry" isn't even the only ransomware attack to strike this week.
Hackers have managed to get ahold of a copy of the latest Pirates of the Caribbean movie. It hasn't hit theaters yet and hackers are seeking "an enormous amount of money be paid to Bitcoin" from Disney to keep them from releasing the movie for free. Disney won't pay up and is working with the FBI, according to Deadline Hollywood.
Now that fresh hacking cases have mesmerized the media, cybersecurity stocks are extending their gains.
Last week, I showed you how the PureFunds ISE Cyber Security ETF (NYSE:HACK) was beginning to wake up from its slumber. After more than a year of underperformance, HACK is back in action. As of last week, the ETF was up13% so far this year, compared to a gain of just 7% for the S&P 500. Keep in mind, this group of cybersecurity stocks was absolutely crushed during the quick bear market we experienced back in early 2016.
Now these high-tech names are off to the races. HACK gained more than 3% yesterday while individual cybersecurity stocks are sitting on some impressive year-to-date gains. Fortinet Inc. (NASDAQ:FTNT) has jumped more than 34% so far this year. Meanwhile, FireEye Inc.(NASDAQ:FEYE) played catch-up with a gain of almost 8% yesterday.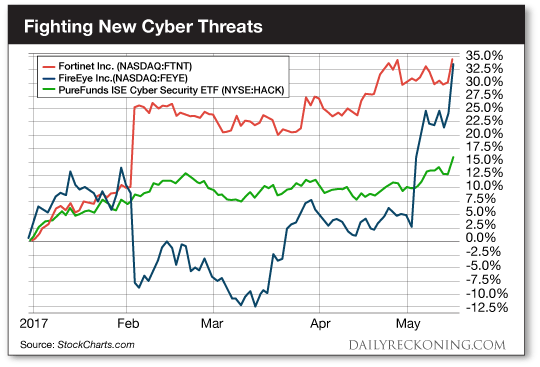 I've said it before and I'll say it again: cybersecurity is quickly turning into one of the most lucrative plays of the decade.
The cybersecurity sector is gearing up for additional gains as more attacks gain media attention. The fuse is lit. Look for these stocks to continue to outperform heading into the summer months.
Sincerely,