These Forgotten Stocks Are Ready to Trounce Wall Street's Big Tech Darlings
Are we witnessing the beginning of an epic small-cap comeback?
Small stocks have taken the express elevator from the basement to penthouse. The sudden shift began Wednesday as the Russell 2000 bolted off its morning lows. By Friday, the small-cap index jumped to the top of its trading range and a year-to-date gain of more than 3.5%.
It took just three days for the Russell to move from the brink of a breakdown to less than 1% from its all-time highs. This fact alone proves just how choppy the small-cap market has been during the first half of 2017…
Unless you've been stock on a deserted island with a poor WiFi connection, you already know 2017 has been all about the big tech stocks. Facebook, Amazon, Apple, Netflix and Google are all up at least 25% year-to-date. You can't talk stocks without talking about the FAANGs (Facebook, Amazon, Apple, Netflix, and Google). Every financial fluff piece marvels at their unstoppable strength. You're a damn fool if you don't own these names, the financial press has declared.
They're right. The cap-weighted Nasdaq Composite has rocketed to gains north of 17% thanks to Wall Street's tech darlings. Meanwhile, the S&P 500 is up 9%. And as we just discussed, the small-cap Russell 2000 trails the Nasdaq by double-digits.
But if last week's fledgling trends persist, it could be time for this winner-take-all market to share some of its spoils…
The Russell 2000 has gained 2.5% since Wednesday morning. Meanwhile, the Nasdaq Composite posted a gain of 1.65%. The S&P 500 clocked in with a gain of 1%.
What we're seeing could be the start of some good ol' fashioned market rotation.
A healthy bull market is like a relay race. When market leading industries and sectors become overextended, traders will move on to the next hot group of stocks.
Don't get me wrong – I'm not calling for tech stocks to crash! Bull market rotation doesn't mean Facebook and Amazon shares are set to crater. Ideally, the strong sectors will simply trade sideways to blow off any excess steam. That's healthy market action. Remember, no stock can climb higher in perfectly straight line. Even the strongest trends need a break every once and a while…
As luck would have it, small-caps are the perfect example of a red-hot bull market rotation in action.
Let's take a quick look back at the post-election rally to get our bearings…
After a pullback in October, small caps finally snapped back into action. As of early December, the small-cap Russell 2000 had jumped 40% above its February lows thanks in part to an incredible 14-day run to cap off November trading. That was the index's longest winning streak in more than 20 years.
At the time, I told you that this action is exactly how big changes in trend happen. One second, everyone hates small-caps. Just when the last seller leaves the building, a monster rally begins to take shape.
But the small-cap rally moved too far, too fast.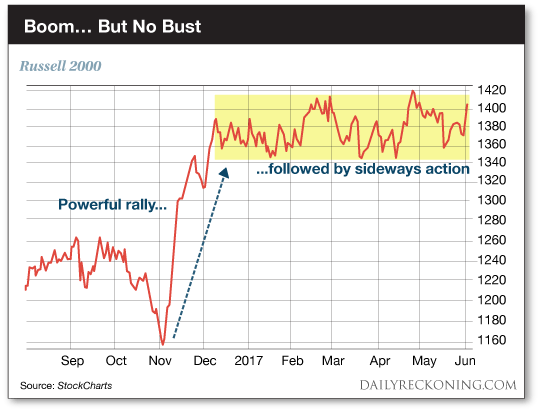 As you can see, the Russell has followed up its furious November rally with six months of range-bound action (so far).
At the very beginning of the year, I told you every shred of evidence I have collected is pointing to an extended surge in smaller stocks. Even though we haven't seen any strong follow-through after the November surge, the choppy, sideways action in the Russell hasn't swayed our longer-term thesis.
If last week's action is any indication, we could be witnessing the first stages of the next leg of the small-cap surge.
Sincerely,