Huge Gains With 93.5% Accurate "Kinetic Windows"
Over the past few days my colleagues have shared bits and pieces of my research on a new proprietary trading tool I've created. Today, I'll be doing a full reveal of what I've discovered.
Earlier this week Greg Guenthner introduced you to my Kinetic strategy.
In case you missed it, I've created a proprietary system that can identify a stock's strongest periods year after year. It analyzes decades of price data to show when a stock is statistically most likely to be in motion — thus the "Kinetic" part of the name.
In other words, it helps us figure out when a stock has a "tail wind."
And now, it's finally time for me to totally pull back the curtain on the rest of what I've found.
Frankly, I've never seen anything like this before…
To start off, let's take another look at this chart for the S&P 500…
At a glance, you can see when the S&P has a tail wind each year — windows of opportunity when the stock is its strongest. You can see it moves up in January, stalls out during the summer months and then moves up again starting in September.
I call those two positive periods in the chart "Kinetic Windows."
Put simply, its when you want to be in the market…
Over the last 20 years, only owning the big S&P 500 index during those two Kinetic Windows each year would have increased your returns over "buy and hold" by 24% every year… while also keeping you out of the market for 41% of the year.
In other words, you're getting more reward plus less risk.
It's as close to a no-brainer as investing gets.
And you can spot those buyable Kinetic Windows clear as day with this chart…
But with my Kinetic system we're not limited to buying big, boring indexes like the S&P 500. Instead, we can generate a Kinetic Window chart for just about any stock on the market.
And that's where things get really interesting.
A Powerful Predictive Signal
If we run our algorithm on every stock in the S&P 500, we end up with just about 1,300 Kinetic Windows each and every year.
That's about 13,000 Kinetic Windows over the last decade…
We can test those 13,000 example trades to answer some very important questions: Do Kinetic Windows work? Are they a useful predictive tool? Do they beat the market?
The answers are all yes.
Here's the bottom line: Over the last decade, buying every Kinetic Window on the market easily beats simply buying the S&P 500 every single year. And those results are statistically significant.
That's very exciting news. You may not realize this, but nobody has done research like this before. It's wholly new territory — and the results are conclusive.
But while we've proven that the Kinetic system and the windows it shows provide valid and profitable signals, you need a trading strategy to put behind it.
After all, you're not going to buy all 1,300 Kinetic Windows each year — that would be nuts.
To create a trading strategy, we've got to filter our huge list of Kinetic Windows so we're only buying the very best ones.
When we do, the results are astounding.
A 93.5% Win Rate
It turns out that there are two simple indicators that tell us whether a Kinetic Window is one that we want to buy or not.
If these two indicators match up and flash a green light, I call it a "K-Sign"
If you buy a stock when a "K-sign" triggers, the win rate on that trade is an astounding 93.5%!
I'll be honest — the first time I saw those results, I had to rerun the backtest twice, because I didn't believe them.
But they're real.
By now, you're probably wondering what this strategy looks like when money is applied.
Let me show you: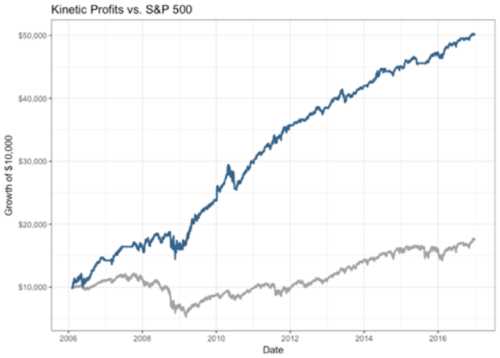 The chart above shows the growth of $10,000. The blue line on the chart is our new strategy — the grey line is the S&P 500 during that same run.
Charts don't lie. Our strategy left the S&P in the dust.
It made 401% during that exact same time frame, turning every $10,000 invested into more than $50,000.
It even would have made money during 2008! That's what happens when you only buy stocks that are experiencing tail winds.
The Kinetic system is superior to any trading strategy I've ever seen before. I've only scratched the surface today on what this system can do for you.
Stay tuned for more in the days ahead…
Here's to trading with a tail wind.
Regards,