Huge Gains the Kinetic Way
"K-Signs" might sound funny.
But how they work is simple. They tell the best time to make a trade. And they're already proving over 93% accurate.
Using them is as simple as looking at a picture book.
And they could make you rich!
Read on below for more.
Regards,
Amanda Stiltner
for The Daily Reckoning
---
Introducing the K-Sign
By Jonas Elmerraji
Steve Jobs famously said, "Simple can be harder than complex." It's a great quote.
Last week I introduced you to a new proprietary trading system called Kinetic Windows. This system delivers unparalleled insight on the best times to buy and sell on any stock, and can deliver these picks with unheard-of accuracy.
But I will tell you… I've spent almost a decade developing this system, and the nuts and bolts behind it are far from simple.
Being able to explain what the heck a Kinetic Window is and how it affects stock prices becomes a real barrier.
So I've been racking my brain to figure out a simpler way to approach it.
The actual algorithms and testing that power our strategy are anything but simple. Our quantitative research platform, Archimedes, is anything but simple.
The Beauty in Simplicity
But we need simple. We need clear. You need to know what's happening and what to do in a fast, clean way.
That said, I'm happy to announce I've finally figured out a way to make our strategy super, super simple to grasp. It's visual. It's easy to see and follow. It's a game changer.
Introducing the K-Sign.
I've mentioned the K-Sign a couple of times now over the past week. But as promised, it's time to finally show you what it is.
Something interesting happens when you take a simplified version of our Kinetic Window and slap it on a long-term price trend of a stock — it creates buy and sell signals that look like the letter K.
Have a look:
Can you see them? Those "K-Signs" form the beginning and end of our Kinetic Windows: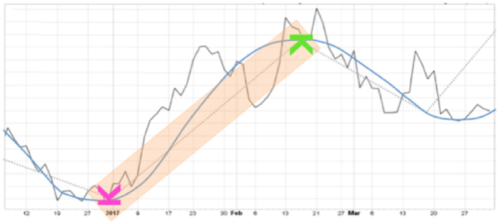 K-Signs Do the Work for You
The "buy" sign always looks like a letter K that's been tipped over on its back…
While the "sell" sign always looks like a K that's fallen forward.
Yeah, it's painfully simple, but that's the point.
Again, these are the exact same data points we've been looking at for over the past week. Now, the K-Sign gives us the easy visual you can use to "see" Kinetic Windows in action.
Over the past week I've been showing you charts like this one below: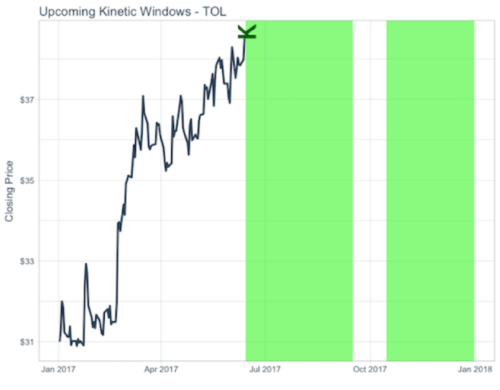 As you can see, the K-Sign is a superior way to visualize Kinetic Windows. And it's super simple.
Even if you haven't seen all of the research behind them, it's pretty intuitive that you want to own the stock during the green window, not during the rest of the time.
That secret alone could make the K-Sign an ultra-powerful trading weapon for you!