Exactly One Year Post-Brexit, These Trades Are Going Strong…
Exactly one year ago, world markets tanked as England voted to leave the European Union.
The Brexit vote shocked the world. Investors sprinted for the exits as stocks cratered immediately after the vote. Bearish investors pressed their shorts. Surely the markets would test their lows in a matter of days…
But the world abruptly stopped falling apart. Stocks halted their skid and turned higher. After all the handwringing, the S&P 500 snapped back toward its all-time highs by early July.
These developments came to a shock to many investors. With all the bearish media coverage and the endless supply of downright terrible news, no one even bothered to notice the major averages taking aim at new records after more than a year of choppy trade.
But we snapped into action here at Rude HQ. As stocks turned higher, we conjured up three big market moments you could bet on as stocks unexpectedly started to rally.
Today, we revisit these predictions. We'll see which if our guesses were correct – and if any failed to launch…
1. Death of the safety trade
"You know investors have gone safety crazy when they start treating utilities like growth stocks," we wrote last year.
As investors gobbled up anything and everything with a decent yield, they bid up utilities to prices not seen in decades.  In fact, the utility shares jumped more than 21% during the first half of 2016. That was the sector's best first-half performance in more than 25 years. At the time, the utilities sector even had a higher trailing 12-month price-to-earnings ratio than the technology sector.
But with the markets springing back toward their highs, we argued utilities time at the top was finished. In calmer waters, investors would want to pay growth-stock prices for actual growth stocks, we said.
Looking back, we now know the utilities' sector didn't repeat its historic first-half performance. Over the next five months, the Utilities Select Sector SPDR (NYSE:XLU) dropped double digits. It has yet to catch up with the S&P 500, which it trails by more than 11%…
2. Speculative stocks catch fire
While utilities were star performers during the first half of 2016, the "risk-on" trades suffered.
Small-caps are the perfect example…
You've seen this show a million times. Investors shun risk and flee to big, "safe" stocks when the market gets wonky. That's exactly what happened last year. Small-caps, biotechs and other speculative names were crushed.
"But these are also the first groups to put in a meaningful rally when the markets begin turning around," we noted as the second half of the year got underway. "Now that the major averages are approaching new highs, we should see these stocks spring back to life… Unlike the S&P 500, small-caps have a lot more ground to make up before they even come close to tasting new highs. Look for speculators to help this group of stocks play catch-up as the major averages break out."
Sure enough, small-caps sprung back to life during the third and fourth quarters. We were treated to a historic rally in November. And right now, the small-cap Russell 2000 is consolidating after once again breaking out to new all-time highs…
3. Precious metals can't extend their gains
Even as stocks found a floor and moved higher, the big story during the first half of 2016 year was the incredible performance from precious metals.
"Some folks might think that gold and silver are cooked now that the market looks like it's getting back on track," we wrote last July. "But we think they're wrong. For starters, gold futures haven't missed a beat since the market's surprise post-Brexit surge. In fact, gold's risen 3.2% so far this month. That easily doubles the performance of the S&P 500…"
Last July, conditions look ripe for gold and stocks to trend higher. But our prediction didn't pan out. Instead of pressing higher, gold topped out in August – and plummeted back to earth by the end of the year.
One year later, gold is right back where it started…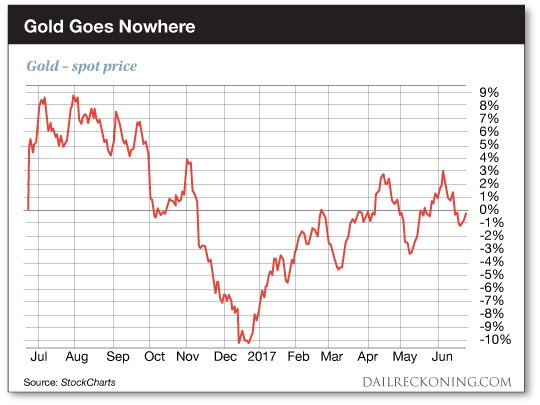 We'll be the first to admit that we whiffed on our bullish gold call. But on the bright side, precious metals are looking constructive once again.
Last week, we shared a unique gold chart that's pointing to a new bullish window for the Midas metal.
You get this exclusive trade trigger by clicking here… It's your second shot at powerful new breakout…
Sincerely,