URGENT: Big Opportunities In Pot Stocks
The past few weeks has been very exciting for pot stocks — and you have a front-row seat to the action!
If you've been watching the price action, you've seen the buying frenzy that's been taking shape in the last several sessions.
Today, I want to give you a top-level view of what's happening in the pot market — but first, there's something we need to talk about…
While I'm thrilled with the momentum we've seen over the past couple of sessions, I just want to re-emphasize that for very small stocks, it's extra important not to chase shares, even if they remain below your chosen buy-up-to price.
That helps to ensure that everyone has a chance to get into a trade.
When you get a buy recommendation for a thinly traded OTC stock, like many cannabis stocks are, be sure to use a limit order and exercise patience if shares start to make a run.
Now, that said, last week's massive upside in pot stocks clearly wasn't sparked by over buying. As I've been telling you for the last few weeks of quiet, do-nothing price action, pot stocks have been a coiled spring ready to pop — and pop they did!
Have a look at our Penny Pot Index: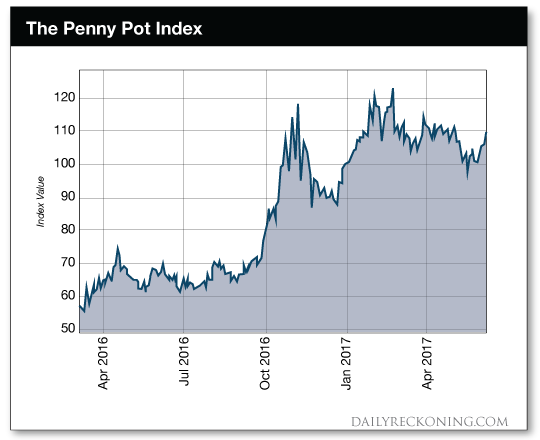 See that spike in the last few days?
That's the sort of move that's caused by the entire penny pot ecosystem jumping higher together, not just pops in a couple of tiny names.
But why?
The cannabis market often moves to the beat of it's own drum. And the beat that moves cannabis stocks most is legislation. And there has been some very exciting legislative developments this month.
First, big news from our neighbor to the south. In April, Mexico passed a measure, in an overwhelming 371-19 vote in their Lower House, to legalize medicinal marijuana, opening up the door to a huge new market for medical marijuana companies. The legislation was just signed by President Enrique Peña Nieto this week, and the Mexican Ministry of Health is already drafting proposed implementation guidelines.
Here in the U.S. the cannabis industry is continuing to see strong support for growth as well. Nevada is set to allow recreational use by July 1 of this year, making "Sin City" one of the largest new recreational markets in the country.
In other news around the country, South Carolina, a state typically viewed as a last bastion of marijuana prohibition, has a bill under review in the state senate for medical marijuana approval, and reports claim it is gaining significant traction leading up to their latest recess. The state also has recently approved a plan to become the nation's next large-scale hemp producer with a pilot program going into effect this summer.
Another exciting bit of legislation comes out of Vermont. The state has just approved doubling the amount of approved licensed medical marijuana dispensaries. This new legislation also adds new diseases to the list of those that can be treated by cannabis products. This is expected to have a large impact on the number of registered medical marijuana users, further helping the industry take hold in the Northeast region of the country.
Of course I couldn't speak about legislation without mentioning Jeff Sessions. Yes, it's true he's doubled down on his distaste for the "devil's lettuce." But it should be even more encouraging to see the House and Senate are vehemently pushing back.
In May, Sessions requested Congress to ignore previously approved aspects of the Rohrabacher-Farr amendment that for now has kept the Department of Justice from using federal funds to interfere with state marijuana laws.
Congress responded to this request with a resounding "NO!" and left the amendment unchanged.
This may seem like a small deal, but Congress controls the cash flows of both the DOJ and the DEA. Sessions can bluster all he wants, but Congress has shown it's the great shepherd of the cannabis industry. And they strongly solidified their  stance last month.
That's something I'm especially happy about — the cannabis stock universe has finally quit hitting the "snooze" button, and momentum is funneling back into the market!
This summer could be a very interesting environment for pot investors, so buckle up for more gains ahead. I'll keep you posted on the exclusive news updates, market insights and special situations along the way.
Stay tuned.
To a bright future,
Ray Blanco
Editor's note: CNBC cites that pot markets could be worth as much as $120 billion!
And now, more than ever, could be the perfect time to strike it rich in the cannabis industry.
This is the must-see opportunity of a lifetime!