The Best Income Opportunities as Wall Street Shifts Course
Don't look now, but there's a major shift underway on Wall Street. One that is poised to grow your profits and accelerate your income over the next few months.
That is, of course, if you know how to take advantage of this shift.
Today, I want to explain how the winds of change are blowing on Wall Street… how speculative investors are already starting to lose money… and, finally, how you can protect yourself from this shift and actually grow your retirement wealth in the process.
Now let me explain what's happening.
Speculative Stocks Falling out of Favor
It was bound to happen eventually.
Earlier in the month, shares of Wall Street's favorite growth stocks began falling fast. During this dive over the last two weeks of June, more than $50 billion of investor wealth had been lost!
In case you're wondering which of Wall Street's favorite stocks I'm talking about, I'm referring to the FANG growth stocks, or Facebook (NASDAQ:FB), Amazon (NASDAQ:AMZN), Netflix (NASDAQ:NFLX) and Alphabet (NASDAQ:GOOG).
These four stocks have been trading sharply higher this year and are responsible for a large portion of the market's gains. So the sudden drop in price for all four of these stocks certainly caught investors off guard.
Take a look at the damage to each of these stocks below:
Hopefully, the pullback in these stocks didn't catch you off guard. After all, considering how quickly these stocks have moved higher (and how expensive the shares are compared with earnings), investors should have realized there was a lot of risk in these names.
Still, the pullback got the attention of many traditional investors, and it certainly gave the talking heads on CNBC and other media outlets something to talk about.
But one thing these reporters were not talking about is where investors are flocking toward after selling their shares of these speculative stocks.
Where Is the FANG Money Going?
Whenever investors pull money out of one area of the market (causing prices to drop), that capital is usually reinvested in another area.
That's what makes this business of investing so great! There's always a bull market somewhere. And often, conservative, cash-paying dividend stocks become extremely attractive to investors who have sustained losses in other areas of the market.
And that's exactly what is happening right now.
Dividend stocks are starting to get the attention that they deserve.
After nearly a year of underperformance, dividend stocks are starting to accelerate. You can see this trend shifting in the chart below, which plots the relative performance of dividend stocks to the broad S&P 500: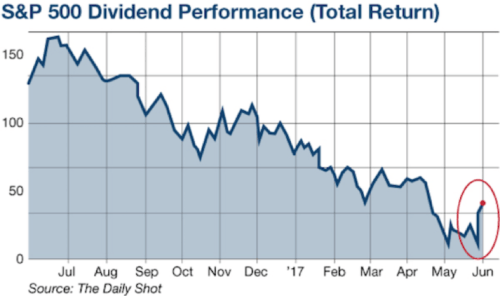 Now, I should explain that just because this chart moved lower throughout the last year does not mean that my recommended dividend stocks have been losing money. It just means that shares have not been trading higher as quickly as the broad market.
That's largely because the S&P 500 has been fueled by the speculative rise in the FANG stocks pictured above.
But now that those speculative stocks are starting to pull back, dividend stocks are getting their day in the sun. And I expect this trend to continue for the rest of the year (and probably well into next year).
After all, the level of uncertainty in the market continues to be high (and dividend stocks are a great place of safety in uncertain times). Interest rates continue to be very low, making dividend stocks one of the best ways to generate income. And many dividend companies are growing, generating larger profits, which in turn fuel larger dividend payments.
Dividend stocks are a great way for you to get you started on the path to a nice earnings spike. And if you've been collecting income payments for a while now, these are great positions to consider adding more capital to so that you can boost your income payments for the weeks and months ahead.
I'll be tracking both these speculative and dividend stocks closely over the coming months, so stay tuned for more on this potentially profitable Wall Street shift.
Here's to growing your income!
Regards,