If America's No.1, Why Are These Countries Beating Us?
America is great again!
You can't beat Uncle Sam. You know it. I know it. Believe me.
Just check the stock market:
The Dow Jones Industrial Average and the S&P 500 posted new all-time closing highs on Friday. Even tech stocks are shaking off recent weakness to help put the Nasdaq Composite back on track (it's just a few points from its all-time high close posted last month).
Should we be giving thanks to President Trump for the wonderful gift of all-time highs?
He certainly thinks so. After all, the Trump Administration threw down the gauntlet just a couple of weeks after taking the White House when Treasury Secretary Steven Mnuchin said the administration would look to the stock market as a "report card" for how his economic policies are performing.
Let's be honest – Steve knows what's up. After spending decades at Goldman Sachs, he understands the stock market's power. All that vampire squid blood running through his veins tells him only price pays.
Judging by the huge post-election rally we've witnessed, it's no surprise the administration is patting itself on the back. If we're following his official report card, Trump's tenure gets an "A+" as the market defies the naysayers and blasts higher.
Our illustrious president couldn't help but mention last week's market milestones on Twitter over the weekend as he deflected criticism surrounding the latest Russian fake news story…
Now before you go and get your panties in a bunch, you should know that I have a lot of readers who are way too pissed off over politics these days. My inbox overflows with angry letters every single time I mention anything related to Trump.
So before you hit "send" on your latest screed, please consider this following:
First, I'm not making up any of these statistics. The S&P 500 is up nearly 10% year-to-date. The Nasdaq Composite is up more than 17%. U.S. markets are on a tear and investors are downright giddy.
But here's what they're not telling you…
Emerging markets are running circles around America right now. That's right – the same stocks that couldn't attract any attention since the financial crisis are decimating U.S. stocks so far this year.
The iShares MSCI Emerging Markets ETF (NYSE:EEM) has rocketed to gains of nearly 25% year-to-date. This performance puts all the U.S. major indexes to shame – even the red-hot Nasdaq Composite.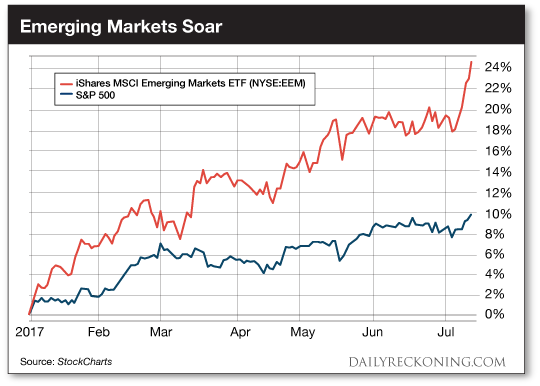 There's a global economic rebound happening right now. But most of us are too fixated on what's happening in the U.S. to see it unfold.
A quick peek overseas shows the strength of these emerging market rallies. India's Nifty 50 Index is up more than 21% in 2017. South Korean stocks are up almost 20%. The Global X MSCI Argentina ETF is up more than 30%. Polish stocks are up nearly 40% year-to-date. The list goes on and on…
While some investors are dipping their toes in emerging market funds, most folks are content to stay parked in U.S. stocks…
"U.S.-based stock investors may have pumped fresh funds into emerging markets after their recent outperformance, but they remain under-allocated by a key measure, as a combination of 'home bias' and lingering concern about volatility have restrained client interest,' Reuters notes.
As of this month, U.S. money managers only have 5% of assets under management allocated to emerging market stocks, according to eVestment. Despite the incredible first-half performance of more than a handful of emerging markets, we're not seeing a big rush into these stocks like we witnessed during the Goldman's BRIC-mania earlier this century.
That's because everyone who indiscriminately tossed their investment dollars as emerging markets has underperformed over the past ten years. Remember, most of these emerging markets didn't enjoy the sustained rally to new post-financial crisis highs we've seen here in the U.S.
American stocks have been good to investors so far this year. But emerging markets are now the world's greatest stocks. They've more than doubled the performance of the S&P so far this year. Ignore them and your returns will suffer…
Sincerely,