Don't Get Sucker Punched by These Tumbling Stocks
Tech stocks took a wild swing at investors last week.
After posting its worst drop of the month on Thursday, the Nasdaq Composite halted its slide, finishing the week barely in the red.
The tech scare barely left a mark on investors' portfolios when the dust cleared. But if you're feeling bearish, there are other sectors offering up some downside action these days.
Check out transportation stocks.
Airlines are back in the news. The entire industry is slowly tumbling into a public relations nightmare. Flying has never been fun. But now it's getting downright dangerous…
Back in April, the entire country went ballistic after a video surfaced showing cops dragging an unconscious doctor off a United Airlines flight. Now the rest of the world's discount airliners are taking the hint and beginning to ramp up the abuse. Just yesterday, an airport employee punched a passenger in the face as he was holding a baby while waiting for a delayed flight in France.
A photo of the incident is already circulating throughout the major media outlets thanks to an alert Twitter user…
What the heck is happening with airlines these days?
Flying used to be a luxury. A family would show up to the airport wearing their Sunday best, buy their tickets and just waltz onboard without even walking through a metal detector. Pleasant stewardesses catered to your every need. You could even smoke a cigarette without risking going to federal prison for tampering with the lavatory smoke detector.
But those were simpler times.
Thanks to the rise of the discount airlines, your local airport has become nothing more than a glorified bus depot. Surly passengers roam the gates in their pajamas. Airlines overcrowd flights, lose luggage, and force customers to endure countless hours of inexplicable delays.
Now we have poorly paid, overworked airport staff who are ready to violently subdue anyone who crosses their path.
Yet up until a few weeks ago, airline stocks had shaken off the bad press. The Dow Jones U.S. Airlines Index was up more than 13% year-to-date in early July.
But the gains wouldn't hold much longer. The airline index has cratered over the past few weeks, dragging the transportation average lower.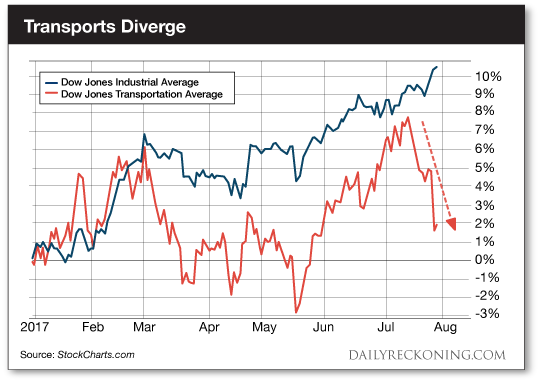 On Thursday, the Dow Jones Transportation Average dropped more than 3%. Shares steadied on Friday – but the damage is done. These stocks are now sitting near two month lows. That's a sharp divergence from the industrials, which remain perched near their all-time highs.
Back in May, we noted that major airlines (especially United) were dealing with some serious PR issues. But that hadn't stopped shares from ripping back to all-time highs. We even jumped on a United Continental Holdings (NYSE:UAL) in an attempt to "buy the controversy".
But the gains would be short-lived. We were stopped out of our trade early last week. Once again, a stop loss kept us out of any serious trouble. UAL is now quickly dropping toward its March lows. It's sitting on a year-to-date loss of nearly 7%.
Remember, transports play a key role in measuring market moods. This is where a market timing tool called Dow Theory comes into play. Dow Theory uses two indexes to measure the market's primary trend: The Dow Jones Industrial Average and the Dow Jones Transportation Average.
The idea is that the two groups combined can measure the overall health of the economy. If the industrials are performing well along with the transports, we can assume goods are being made and delivered. In other words, the economy is humming along. The transports slipping lower could turn out to be an early warning sign that the industrials are in for a bigger drawdown.
That's why it's so important that we keep an eye on the sliding transports as we head into the new trading week. We don't want to get sucker punched by a surprise stock market slide…
Sincerely,