Did Millennials Kill the Housing Market?
No one's buying homes anymore.
Millennials are stuck in their parents' basements. They either can't save their money due to student loan burdens – or they won't because they insist on splurging on $5 avocados and nitro cold brew every day.
The Great American Housing Comeback is DOA thanks to the millennial scourge. The kids are content with the sharing economy. Why own a car when you can Uber everywhere? Why buy an expensive house when you can rent an apartment in a major city that's close to work and entertainment? It's a no-brainer.
There's just one problem with this story…
Millennials are growing up. They're getting married and starting families. They are going to need somewhere to live – and it ain't some dingy apartment above a bar.
Forget what you thought you knew about the housing market. After years of stagnation, the housing market is heating up. Inventories are tight. Homebuilders are back in action after years of sitting on their hands. Summer is prime home shopping season and buyers are out in droves. Real estate is hot again.
Almost four months ago, I wrote that you would need to ignore some bad press to profit from the rebirth of the homebuilder sector. After all, the market was spitting out some bleak housing stats back in April. After vaulting to 10-year highs in March, home sales cratered, coming in well below consensus forecasts.
The new data drummed up some especially scary headlines about a home sales collapse – as if we were supposed to ignore the fact that the April figures were a half a percent higher from the same period last year, even if they were off by double-digits from the red-hot March print.
But after barely making a ripple during most of the summer, homebuilder sentiment is riding another bullish wave into the third quarter. Sentiment rose four points to its highest level since May. The trend remains intact.
Demand from buyers is picking up and new home sales in June were 9% higher than last year's reading. The homebuilders have reached a critical tipping point. There's simply not enough real estate on the market right now – especially when it comes to homes geared toward first-time buyers…
"The new-home industry is also benefiting from a severe shortage of existing homes for sale. Most buyer demand, however, is on the lower end of the market, where builders have trouble meeting margins," CNBC notes. "Construction is still running well behind even normal levels, never mind the strong, pent-up demand. Most builders are also still concentrating on the move-up market, rather than entry-level."
The writing is on the wall. Homebuilders need to ramp up production to meet demand after sitting on their hands for the better part of the last decade.
You might recall that the U.S. homeownership rate recently dipped to its lowest level in more than 50 years. I know that doesn't sound bullish – but it has more to do with the generation-gap than any other economic trend. As younger people jump into the housing market, we're going to see a huge bounce off these lows.
Of course, price told us these events were about to unfold months ago. The iShares U.S. Home Construction ETF (NYSE:ITB) has dominated the major averages in 2017. It's up more than 25% year-to-date.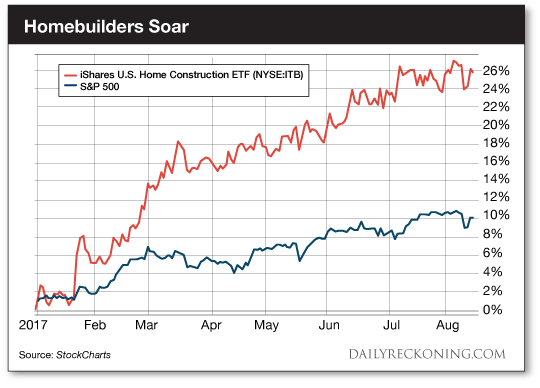 Remember, we're a full decade removed from the housing bubble. And after ten years of little to no substantial gains from the homebuilders, it's finally time for these stocks to get moving once again. The housing market has finally stabilized. Builders are back and they're throwing off gains again…
Sincerely,