Cryptocurrencies Can Make You Rich Beyond Your Dreams
One market is hotter than anything I've ever seen before.
And the good news is we're in the midst of an absolute earthquake for that market!
I'm talking about the "cryptocurrency" market.
Cryptocurrencies are things with names like "bitcoin" or "ethereum."
They're digital currencies that are largely out of the hands of any centralized government.
And the fact of the matter is that people from all over the world are getting rich from these cryptocurrencies…
There are over 984 cryptocurrencies in existence now. More are coming to market every day. And many are shooting higher and higher each and every day.
In fact, Bloomberg reports that one trader recently made over $200 million in one month.
How is that possible?
Well, these cryptocurrencies are essentially the equivalent of microcap stocks. That is, many are underfollowed and trading at a huge discount — but poised for explosive moves higher.
Consider the case of a gentleman profiled in Forbes named Mr. Smith, who turned $3,000 into $2.3 million!
What's he doing now?
According to Forbes:
Just like that, Smith had landed upon a windfall of $2.3 million. "It was absolutely insane," he says. "I quit my job and left on a round-the-world trip the following week."
There are many stories just like that, I promise.
And the fact that savvy institutional investors — including prominent venture capitalists — are now treating cryptocurrencies as a new asset class is a major tell that we're on the cusp of a permanent transformation.
In other words, this isn't simply a hype-driven fad that will fade. It's the dawn of a new technology.
And I believe bitcoin's price could conceivably reach $10,000 as interest heats up.
Why do I say that? The math is simple.
With huge demand from hedge funds, venture capitalists and big investment banks like Goldman Sachs…
All piling millions of dollars into bitcoin…
And with the scarcity and strictly limited number of bitcoins available…
Bitcoin must go up over time. And the day it hits $10,000 and beyond could happen a lot sooner than you think.
The demand and supply make it a mathematical certainty.
That being said, the biggest gains going forward aren't going to come from bitcoin.
Think of bitcoin as the "blue chip" of cryptocurrencies. Trading near $4,298, it's a lot harder for bitcoin to multiply in price than it is for a "penny" crypto trading for under $1.
That's why the biggest gains in this market will come from sifting through the 1,000 or so "penny" cryptocurrencies.
Here's proof…
But take a look at another cryptocurrency investment:
During this spike, one little-known cryptocurrency made 14x the gain of bitcoin.
That means the same $1,000 invested would have turned into $41,260. And this was not a one-time event.
Take a look at this…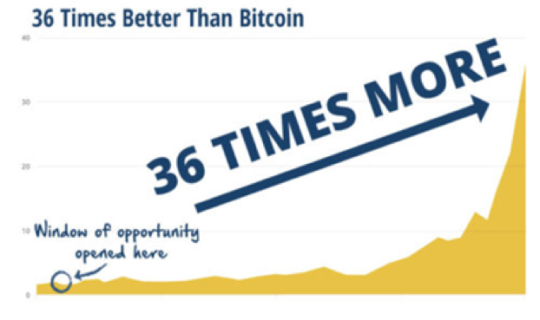 This time, the same secret "crypto-coin" returned 36x more than bitcoin.
Here's a chart showing you how much more you'd have made by using this secret cryptocurrency strategy instead of buying bitcoin directly.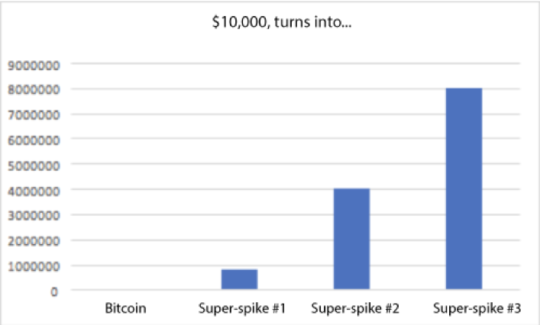 Here's the bottom line:
While I believe everyone should have a small fraction of their wealth in bitcoin as a way to play the digital currency boom…
There's another way to play these super-spikes for the chance at a life-changing lump sum.
Catching just one of them can make you rich.
Hands down, the cryptocurrency market is the hottest market on Earth right now. And I can't say if we'll ever see another opportunity like it ever again.
I strongly advise you to seize this historic opportunity before the mainstream catches on.
And before the next super-spike gets ready to hit.
For Tomorrow's Trends Today,