These 2 Charts Spell Trouble for the Rally
Investors are suffering from political tunnel vision.
But it's not their fault.
Stock market commentary is completely out of hand these days. You won't find any actual market discussions on the web anymore. The financial press has ditched earnings reports and charts for political gossip. Now all we get is Trump, Trump, Trump. In our hyper-politicized world, taking sides is all that matters.
Unless you want to make money…
Frankly, I'm sick of all the noise. Today, we're leaving politics behind. Instead of whining about the troubles in Washington, I'm going to show you two charts that are flashing warning signals for stocks. If these trends continue this week, the bears are going to get a lot louder.
Let's dive right in…
1. Small-caps break down
Over the past nine months, we've already seen the power of a furious small-cap rally. But momentum works both ways.
On July 25th, the small-cap Russell 2000 launched to new all-time highs. It looked like small stocks were ready to soar after consolidating for most of the summer.
But the move didn't stick. Now the Russell 2000 looks downright terrible. It smashed below its 200-day moving average for the first time since its November rally last week, switching from breakout to breakdown less than one month after clocking new all-time highs.
Back in late October, everyone still hated small stocks. That's when the Russell 2000 finally raced ahead to lead the market for the first time in two years. The initial rally was intense. As of early December, the small-cap Russell 2000 had jumped 40% above its February lows thanks in part to an incredible 14-day run to cap off November trading. That was the index's longest winning streak in more than 20 years.
But the small stock rally hasn't kept up with the major averages this year. Now we're witnessing a nasty breakdown just when it looked like the Russell was about to break free of its consolidation in July.
2. Transports follow suit
The story with transportation stocks is almost identical to what we are witnessing in the Russell 2000.
Like the Russell, the Dow Jones Transportation Average broke out to new all-time highs in July. And like small-caps, transportation stocks immediately lost their momentum after breaking out.
On Friday, the transports closed below their 200-day moving average. The group is now at levels we haven't seen since late May…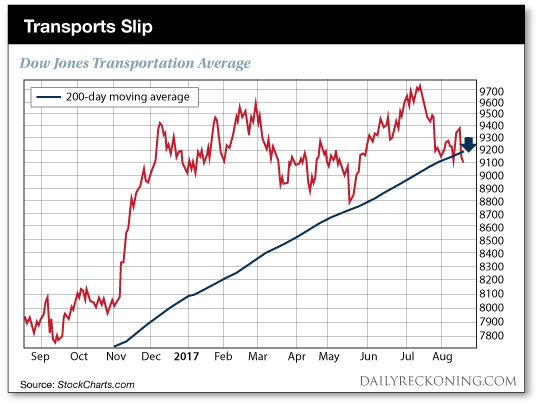 You might recall that after last summer's Brexit bottom, the Dow Jones Transportation Average was one of those down and out groups that started to power higher. Transportation stocks like airlines had been absolute dogs for weeks. But as the market bottomed out, these sickly stocks began to outperform the major averages once again.
Things really started to heat up for the transports in November. Like their small-cap friends, transports offered one of the strongest post-election bounces on the market. But also like their small-cap counterparts, the transports have lost their mojo.
Here are the final numbers as they stand after Friday's close:
The Dow Jones Transportation Average is almost 7% below its July highs. Meanwhile, the small-cap Russell 2000 isn't far behind. It's down 6.5% from its all-time highs.
Neither of these moves puts either the transports or small-caps in official correction territory. But the quick reversals tell us to remain cautious. August is traditionally the beginning of a rough period for the markets. If we want to maintain our winning ways, we need to shut out the political noise and watch how the major averages react to the slumping small-caps and transports.
Sincerely,