Grocery Wars! Amazon Fires the First Shot…
The most important financial advice of 2017 goes a little something like this: If you're looking to buy your first home, you need to stop eating avocado toast.
Millionaire property developer Tim Gurner called out his fellow millennials on their extravagant spending earlier this year, claiming that poor budgeting and buying trendy, overpriced food was preventing many of his peers from getting ahead in life.
"When I was trying to buy my first home I wasn't buying smashed avocados for 19 bucks and four coffees at $4 each," he said.
Of course, this bit of "advice" quickly became the fodder for a series of avocado memes that are still going strong on the internet today…
Another snarky millennial claims to have done the math on Gurner's claim. If he stopped eating avocado toast every day, he would be able to afford a house in Los Angeles in just 642 years. That's doesn't sound like a smart savings strategy to me.
Luckily, help is on the way.
Amazon.com (NASDAQ:AMZN) CEO Jeff Bezos has found a way for millennials stash away the down payment for their first homes. Amazon is hitting the ground running with its Whole Foods merger, slashing prices on everything from baby kale to avocados. Sleep tight, millennials. You can now have your avocado toast and eat it, too. Thanks to our Amazon overlords, you'll finally have a shot at moving out of your parents' basements.
Make no mistake – Amazon's push to make organic food more affordable at Whole Foods is just the first of many salvos the company will launch in the coming grocery wars.
Amazon shocked the grocery industry back in June when it announced it would buy Whole Foods for nearly $14 billion. The company was already on top of the world. The Whole Foods deal just gives one more big reason for Wall Street to sing the company's praises.
We all know how Amazon has decimated the brick and mortar retail sector (the carnage just keeps getting worse, with major retailers dropping like flies with every new earnings miss). But now the king of e-commerce is ready to take on the grocery world – one of the few corners of the old retail model that has fiercely defended its turf over the years.
In its quest for world domination, Amazon has the traditional grocers in its crosshairs. Sprouts Farmer's Market (NASDAQ:SFM) and Kroger Co. (NYSE:KR) shares took a hit back in June when news of the Whole Foods acquisition first hit. Now, Amazon's move to drop prices on organics at a store nicknamed "Whole Paycheck" is tearing apart its competitors' stocks.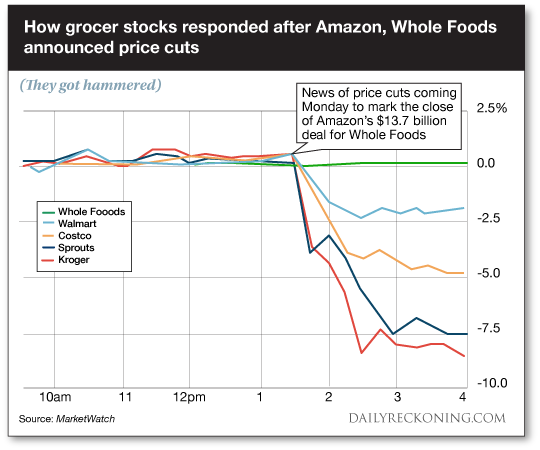 Kroger and Sprouts shares finished sharply lower in Thursday trading. Even Walmart (NYSE:WMT) and Costco Wholesale Corp. (NASDAQ:COST) stock took a hit. Even though we're in the first phases of Amazon transforming grocery shopping, investors aren't confident the traditional grocers and wholesale discounters can compete anymore. The margins in the grocery biz were razor thin before Amazon stepped into the room. If Bezos & Co. decide to tighten the screws, the traditional grocers could be in big trouble.
Of course, there's more to the first phase of the Whole Foods integration than cheap avocados.
"Whole Foods said private label products like 365 Everyday Value and Whole Paws will be available through Amazon, AmazonFresh, Prime Pantry and Prime Now," MarketWatch reports. "And Amazon lockers will be available at select Whole Foods stores. Shoppers will be able to have products shipped from Amazon to Whole Foods for pick up, or send returns to Amazon while visiting a Whole Foods store."
As Amazon continues its quest for world domination continues, we can expect to see a lot more pain in this sector. In fact, we're probably just scratching the surface of what the Whole Foods integration will do for the grocery shopping experience.
Sincerely,