Shocking Pot Study — Your Path To Riches Revealed
We've got a lot of ground to cover.
Today, a new study that squashes pot critics' objections.
Then some exciting marijuana news coming out of Canada.
And finally, we'll sum up the Canadian market for pot stocks in one chart.
But first, our breaking story on a new marijuana study reveals shocking revelations.
Pot's "Not Cool" to Kids Anymore?
Everyone agrees we need to keep pot out of the hands of kids. It remains a concern of many anti-pot politicians: If pot is legal, more kids will use it. The thing is, it's not true…
A new study from the academic journal Addiction reveals that U.S. medical marijuana laws apparently don't cause increased marijuana use in adolescents.
That's long been one of the biggest beefs of the anti-pot crowd…
Making pot more available to adults means that kids will be able to gain access to marijuana more easily too, they claim. But a meta-analysis of 11 academic studies found that that's just not the case in jurisdictions where marijuana is legal.
Maybe pot's "not cool" anymore when your mom's smoking it.
Whatever the reason, all marijuana advocates agree that teens shouldn't have access to weed, even if adults should. This isn't the first time research has shown that legal weed doesn't increase kids' use.
And this latest round of data helps take the wind out of the sails of naysayers who've been using make-believe reasons to fight against legal pot.
Which is great for pot investors here in the U.S. and abroad.
And speaking of opportunities abroad, now on to our Canadian pot update.
Canadian Pot Plays Looking Better and Better
As you probably have heard earlier this month, Attorney General Jeff Sessions tried to allay fears that the feds would crack down on pot following the announcement that his office was tossing two Obama-era memos that prevented federal law enforcement resources from cracking down on pot in states where it's legal.
"[Federal prosecutors] haven't been working small marijuana cases before, they are not going to be working them now," he told students at Georgetown's law school following a speech there.
That's cold comfort to the pot industry.
After all, the planned 435,000 square feet of grow space at pot producer Copperstate Farms in Snowflake, Arizona, hardly qualifies as "small." Neither does the 1 million planned square feet of grow space that AmeriCann is building out in Freetown, Massachusetts.
So while the feds might not be banging down the doors of recreational pot users in states where it's legal, major companies are plagued by uncertainty.
An estimated $27 billion in infrastructure is needed for the adult-use cannabis market in the U.S.
That's a massive investment.
But the looming threat of federal crackdowns on big pot enterprises is a real risk.
And it puts American companies at a huge disadvantage to their Canadian counterparts in particular.
And in case you forgot the biggest reason Canadian weed is on fire right now is because Canada is still on pace to go fully legal by July 1 — Canada Day.
This will allow any company to grow and sell pot. Medicinal sales licenses will be grandfathered into the emerging recreational market, allowing for medicinal companies to do recreational sales.
It's the perfect recipe for harvesting huge profits. And that's why it's highly suggested to focus heavily on Canadian cannabis plays.
The market is soaring. The Canadian pot index has risen from $675.46 to $716.67, over 6%, in four weeks! Check out the chart: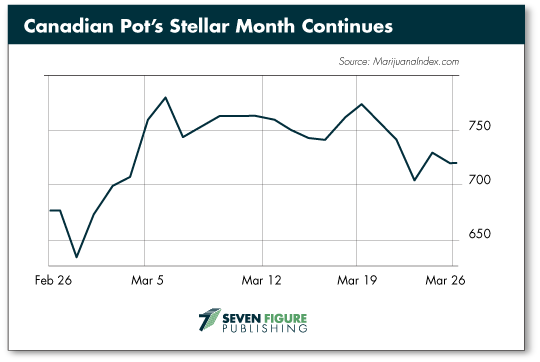 If you're looking for fast cash in the pot industry, you want to set your sights north.
Canadian weed offers the best reward potential for every dollar of investment risk right now.
For Technology Profits Daily,

Ray Blanco
Chief Technology Expert, Technology Profits Daily