How to Profit From 2018's Major Market Themes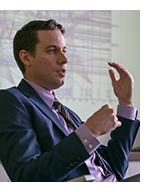 2017 went out with a bang.
Investors were minting profits as the major averages marched to new highs. It was a great time to be in stocks!
But 2018 hasn't been that easy for traders. The February correction and the months of choppy action that have followed have kept us on our toes.
Today, I'm tearing apart three of my rapid-fire market themes. I'm breaking down my wildest market guesses for 2018 to reveal what came true — and where I've been dead wrong.
I expected each of these topics to produce more than a few trades in 2018. Some of these guesses have produced some juicy trades, while some have failed to develop into major market themes.
Here's where they stand today…
1. Voice will emerge as the next tech battleground.
The easiest operating system to use is one you can't see. That's why we're bulled up on emergence of "smart speakers" like the Google Home and Amazon Echo.
But Google and Amazon aren't the only major tech players diving deeper into the voice game. Microsoft is rolling out its own smart speaker it developed with Harman Kardon that will use its Cortana language recognition software.
Most folks don't list Amazon as a tech company. That's fair. It's "officially" a consumer stock—I get it. But this doesn't mean Bezos & Co. are mailing it in when it comes to groundbreaking technical innovations.
Amazon revealed at CES that there are now more than 7,000 Alexa skills, which Geek Wires explains as "third-party integrations that extend the capabilities of its voice platform." Alexa developers are in this game to dominate voice. And as Alexa continues to "learn" new skills and integrate with additional products, she will be a force to reckon with in the tech world.
If the company continues developing its Alexa software and associated products, Amazon will indeed own the voice niche. The echo is more than a glorified wireless speaker that displays the weather. Amazon is developing a fully-integrated communications hub for your home.
In late 2017, I didn't think anyone would catch Amazon in the voice race. That was before Microsoft Corp. (NASDAQ:MSFT) purchased artificial intelligence startup Semantic Machines.
Now it looks like the acquisition will provide a shot in the arm Microsoft's foray into conversational AI. If Microsoft can make chatbots and digital assistants converse more naturally, the tech giant could give Amazon a run for its money in the voice space…
2. Gold goes nowhere.
The price of gold jumped about 10% in 2017.
That's not terrible performance. When you consider bitcoins meteoric rise, the S&P 500's 20% gain, and the industrial metals comeback, gold's 2017 performance looks downright pitiful.
That's why I predicted gold would go nowhere this year
There are simply too many distractions for gold to get any attention, I reasoned. Even the prepper crowds have moved on to crypto as a so-called "safe haven" investment if the world turns into a nuclear wasteland.
After all the false moves we witnessed in 2017, I'm still not seeing a tradable edge in gold. It's stuck in a range near $1,300 — exactly where it was at the end of 2017.
3. Global stocks dominate.
Emerging markets were putting America to shame late last year. That's right – the same stocks that couldn't attract any attention since the financial crisis decimated U.S. stocks in 2017.
As we mentioned earlier, the S&P 500 jumped 20% in 2017. Meanwhile, the iShares MSCI Emerging Markets ETF (NYSE:EEM) rocketed to gains of nearly 35%. This performance put all the U.S. major indexes to shame – even the red-hot Nasdaq Composite.
"There's a global economic rebound happening right now," I wrote back in December. "But most of us are too fixated on what's happening in the U.S. to see it unfold. While some investors are dipping their toes in emerging market funds, most folks are content to stay parked in U.S. stocks. I expect many investors will finally begin to take notice in 2018 as the global economic boom accelerates."
So far this year, emerging markets have followed the performance of U.S. stocks. They corrected in February and have chopped along since. That's hardly "domination". In fact, we're starting to see emerging markets lag the U.S. averages as the dollar gains strength. If these trends continue, we could see continued weakness in global stocks heading into the second half of the year.
Sincerely,
Greg Guenthner