Trump's Rage Can't Rock the Markets
Trump is hogging the headlines as we launch into a new trading week.
Stocks are higher this morning. But the president is angry. He's miffed with Canada after Trudeau's comments during a news conference that he was against Trump's steel and aluminum tariffs.
Trump took to Twitter late last night to vent his frustrations:
Chief economic advisor Larry Kudlow went even further, accusing the PM of "making his comments for domestic political consumption and doing a great disservice to the whole G7," CNN reports.
But the news moves at light speed these days. It's time to forget about the weekend's G7 bickering and look ahead to a potentially historic meeting that's brewing this week…
Tactic:
With Trump's Sunday tweetstorm behind us, we can move on to the highly anticipated meeting with Kim Jong Un.
Trump is already in Singapore to prep for tomorrow's encounter. Media reports claim Trump and Kim will initially meet privately (only with each other and translators). While no one really knows how the discussion will go, markets don't seemed to be worried about a disaster just yet.
Of course, we'll have to endure more that our fair shares of media hype as the meeting unfolds. It would be silly to rule out any short-term market fluctuations this week — even though it's been smooth sailing so far.
Trade:
Is the Facebook Inc. (NASDAQ:FB) fiasco finished?
Investors seem to think so. Just check out the chart: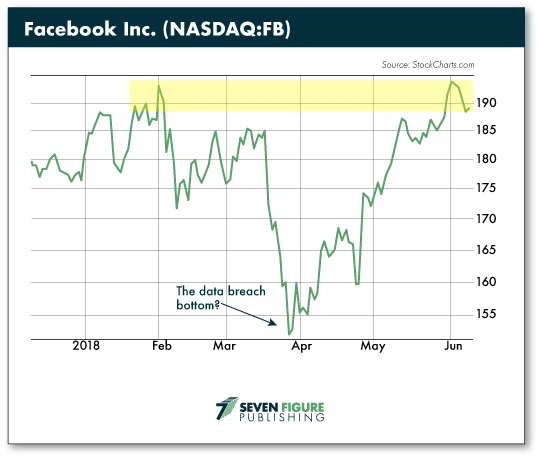 The Facebook correction was swift and brutal. The stock dropped more 21% from its February top in just two months. But shares didn't stay in the basement very long.
After surviving the initial public and government scrutiny from its privacy scandal, Facebook promptly recovered its first-quarter losses. The stock even posted new all-time closing highs to begin the trading month.
I know I've been a little hard Zuckerberg and the Facebook Empire lately. But Facebook has become an easy target. After all, one of the most important tech companies in Silicon Valley went from Wall Street sweetheart to dead money walking practically overnight. Plus, Zuckerberg's awkward creepiness turned the Facebook data breach scandal into a can't-miss sideshow. It was the perfect stock market soap opera.
Now, a fresh test is emerging for the Facebook bulls.
As it turns out, Facebook was sharing user data with a few advertisers in 2015. That's after the period Facebook management said it banned third-part developers from gaining access to the data, Investor's Business Daily reports.
The stock dipped slightly after the Friday close when the news broke. This morning, we'll see if investors can shake off the new developments in the Facebook privacy saga.
If shares hold or move higher, it could signal that investors have moved on from the drama and are ready to bid shares higher once again.
Takeaway:
"How can you sleep with all those investments?" someone once asked legendary investor Bernard Baruch.
"If any of them keep me awake," he answered, "I sell them."
Your trading portfolio is growing as the major averages streak back toward their highs. We've taken on more than a handful of new positions over the past several weeks (along with cutting what wasn't working and taking some profits off the table on the new rally's early winners).
Before your own portfolio becomes too bloated, remember Baruch's sage advice: Sell down to the sleeping point.
We're seeing plenty of strength in various leading market sectors this month. With all that's working in our favor, there's absolutely no reason to cling to any losing trades that are giving you fits.
If something's keeping you up late at night, it should be heartburn from that meatball sub you ate for dinner — not a losing trade.
Sincerely,
Greg Guenthner