Bloomberg/Apple Standoff
Here's an expert opinion on the Bloomberg/Apple standoff. We appreciate the feedback.
"I read Friday's Bloomberg report. My reaction as I first started reading was 'Oh, my God!'
"By the time I finished reading, I thought this is a scam. I don't think Bloomberg was doing this [intentionally] as fake news so they were scammed.
"Why should you trust my opinion? I am a recently retired electronics engineer who worked at both Intel and AMD. At AMD I was a system debug engineer where my primary purpose was to find bugs in the design of new cpus.
"We examined those designs from every angle; BOM's, layout, pc boards were x-rayed and in some cases were stripped back layer by layer. Firmware and software was tested, bugs and defects were written up.
"So where could they put these spy chips once the boards were released to production? Unless there were unused test points on the motherboard that just happened to fit the needed attachment points of the spy chip which is unlikely.
"If an added chip was the problem it would quickly be found unless it was the 'pencil point' size chip inserted between layers of fiberglass. That would require a whole new board design to allow the hypothetical chip to be inserted during the manufacture of the PWB. 
"Now if these boards were designed at Supermicro itself with the spy chips included as part of the design, that is another matter. But then you have the problem of keeping it a secret from most of the design team unless you want to believe the entire design and test teams were part of this scheme. I think this is also very unlikely.
"So I just don't believe Bloomberg's report as described."
Our reader concludes with this question: "So this is a disinformation campaign but by….? It almost has to be by a state agency but…for what purpose?
Thoughts?
We appreciate your feedback.
Your Rundown for Wednesday, October 10, 2018…
Will Semiconductors Bounce Back from Tariffs?
A second round of tariffs on $200-billion of Chinese goods went into effect September 24. Trump's already threatened a third round of tariffs on an additional $267-billion Chinese imports.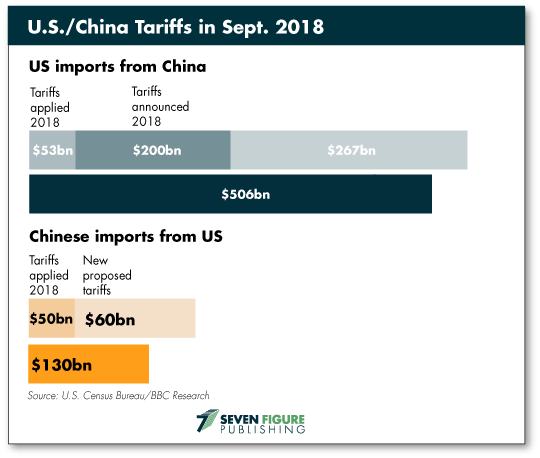 When all's said and done, that might mean tariffs on all Chinese imports; the Chinese are retaliating in kind. From the chart above, however, one party's carrying a bigger stick.
The semiconductor industry has really taken a hit. The industry warns tariffs will cut into production and profitability.
And, after years of soaring growth, semiconductor makers are scaling back.
"Weak demand, overcapacity and a trade conflict…has dampened investment, as electronics companies wait out uncertainty," says an article at Nasdaq.
Take a look at losses on four semiconductor stocks on Sept. 24 with the new round of tariffs:
The VanEck Vectors Semiconductor ETF (SMH) fell 2.4% on Sept. 24 – 26, with semiconductor stocks Intel (INTC), ADI, and STM falling 2.6%, 2.8%, and 1.1% respectively.
We still think the semiconductor industry has a lot of room to grow — long-term. Innovations like 5G , AI, autonomous vehicles and IoT will be future game-changers.
If trade wars can be settled — and that's a big if — semiconductor stocks will likely soar again.
Market Rundown for Wed. October 10, 2018
S&P 500 futures are down 30 points to 2,850.50.
Oil's down 82 cents to $74.14 a barrel.
Gold is down, too, by 60 cents to $1,190.90.
Bitcoin's down to $6,559.39.
Have a great day. We'll talk tomorrow.
For the Rundown,

Aaron Gentzler