AI, 5G and the Semis Massacre
A second round of tariffs on $200-billion of Chinese goods went into effect September 24.
Trump's already threatened a third round of tariffs on an additional $267-billion Chinese imports.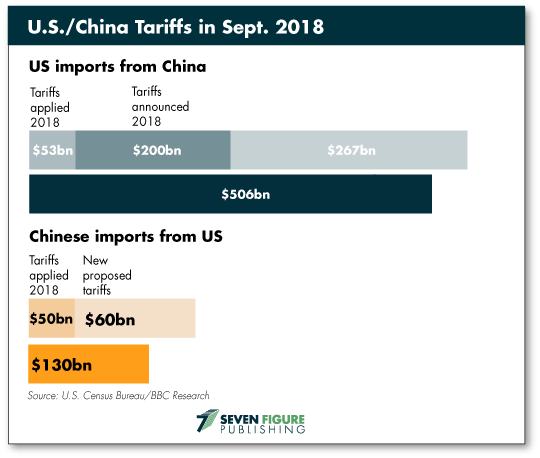 When all's said and done, that might mean tariffs on all Chinese imports; the Chinese are retaliating in kind. From the chart above, however, one party's carrying a bigger stick.
The semiconductor industry has really taken a hit. The industry warns tariffs will cut into production and profitability.
And, after years of soaring growth, semiconductor makers are scaling back.
"Weak demand, overcapacity and a trade conflict… has dampened investment, as electronics companies wait out uncertainty," says an article at Nasdaq.
Take a look at losses on four semiconductor stocks on Sept. 24 with the new round of tariffs:
The VanEck Vectors Semiconductor ETF (SMH) fell 2.4% on Sept. 24 – 26, with semiconductor stocks Intel (NASDAQ: INTC), Analog Devices, Inc. (NASDAQ: ADI), and STMicroelectronics N.V. (NYSE: STM) falling 2.6%, 2.8%, and 1.1% respectively.
It's no secret that momentum stocks took a beating last week. Technology and consumer discretionary names have been hit the hardest as skittish traders move to protect profits.
We'll be watching these areas of the market closely as trading reopens next week.
Specifically, I want to see where semiconductors land. The VanEck Vectors Semiconductor ETF sliced below its 200-day moving average late last week, sending shares tumbling back toward their August lows.
Remember, these former market leaders have been coiling for better part of the past six months. Bulls will want SMH to hold this important support level as we head into the new trading week:
A bounce at these levels could set up a favorable trade in select semiconductor stocks. If these names can take back a leadership position, it will bode well for the rest of the market.
We still think the semiconductor industry has a lot of room to grow — long-term.
Innovations like 5G , AI, autonomous vehicles and IoT will be future game-changers.
The world is becoming more and more tech dependent by the day. Think about it, how many gadgets and devices to do you own with computer chips.
Do you think by next year you will have more tech enabled devices or less?
The point there's an ever-increasing demand for chips. And tomorrow there will be even more demand.
If trade wars can be settled — and even if they can't be — semiconductor stocks will soar again.
Buy the dip and ride the rip as folks say.
To a bright future.
For Technology Profits Daily,

Aaron Gentzler