Blame the Machines! [3 Must-See Charts]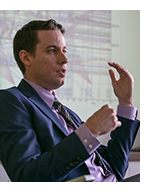 As stocks slid lower once again yesterday, investors and the financial media are frantically searching for a scapegoat.
Did the bond rout spark the sell-off? Or was it Trump's never-ending trade war that finally strangled stocks? Heck, maybe Trump is right and our loco Federal Reserve is tightening too fast.
Since no one can agree on what event might have caused this week's market meltdown, some folks have decided to implicate the machines.
Grab your pitchforks — those damn algos are breaking the stock market!
"Warren Buffett made his fortune by buying low and selling high," said the billionaire hedge fund manager Leon Cooperman, via Reuters. "Machines buy strength and sell weakness and aggravate the moves. There was no reason for that kind of a move yesterday."
Of course, we can argue about what really caused the abrupt turnaround in stocks until the next bull market has run its course. But the market doesn't give you your money back if you somehow guess the right answer.
I'm more concerned over where stocks might land following this week's rout. Let's turn to the charts for some much-needed clarity…
1. The market marches lower
The major averages opened with a nice little rally on Thursday. But the bulls couldn't gain any traction, leading to another meltdown that left stocks deep in the red.
The Dow Jones Industrial Average lost another 545 points following its 800-point tumble on Wednesday. This time, the Dow led the averages lower with a loss of more than 2%. Meanwhile, the Nasdaq Composite shed 1.25% on the day to close at levels we haven't seen since May.
Turning to the S&P 500, yesterday's drop sliced right through its 200-day moving average, setting the index on a collision course for 2,700 (an area that acted as support during the early stages of the summer rally).
It's also important to note that the S&P 500 is more oversold now than during the February or April lows. While this fact doesn't guarantee that the lows are in, it might trigger at least a short-term bounce.
2. Worse than the winter correction?
How damaged are the averages right now?
To put it all in perspective, we were watching for new all-time highs just two weeks ago. But today, we're seeing most stocks crashing below key moving averages.
In late September, more than 70% of stocks in the S&P 500 were above their respective 50-day moving averages. As of yesterday's close, just 11% of S&P components remain above their 50-day moving averages…
Once again, this abrupt drop has already surpassed what we witnessed during the winter correction.
3. Gold glitters
It was a rough summer for precious metals. Gold cratered in August following several months of lackluster performance. Its spot price even dropped below $1,200 for the first time in more than a year.
Last month, I noted that while gold had stabilized in the $1,200 range since its drop, the VanEck Vectors Gold Miners ETF (NYSE:GDX) continued to find new lows.
But gold and gold stocks are finally catching a bid as the market selloff spooks investors. Gold caught a bid yesterday, settling at $1,227. That's its highest close since Aug. 1.
Meanwhile, the miners are capturing some of the momentum that's managed to escape from the stock market:
GDX jumped nearly 7% yesterday, completing a bottoming pattern that had been forming for the better part of the last two months. We'll be watching to see if the miners can maintain this newfound momentum heading into next week…
Sincerely,
Greg Guenthner