Buffett's Buying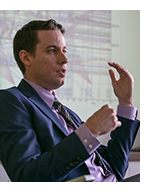 Stock market bears have spilled gallons of virtual ink speculating over Warren Buffett's massive cash stockpile.
Buffett's Berkshire Hathaway was squatting on $111 billion in cash over the summer. It marked the firm's fifth-straight quarter with more than $100 billion on the books. In a market full of "expensive" stocks, Buffett's crew couldn't seem to find anything worth buying.
These stories always strike the right chord with investors. After all, if the Oracle of Omaha ain't buying, why should you?
"While that can be construed as good news for Buffett & Co. — since they have a veritable war chest of capital ready for deployment — it carries far starker implications for the overall market," Business Insider mused back in August. "That's because Berkshire Hathaway's reluctance to buy anything can be viewed as a signal that just about everything is too expensive. And considering Buffett is one of the most successful investors in history, his market behavior should watched closely."
It's no secret that Uncle Warren thinks there are few bargains on the market — he's said as much on numerous occasions over the past few years.
Frankly, I don't care what Buffett tells reporters. But when he starts to spend his cash, I'm all ears. Thanks to new filings, we now know he's finally starting to put some of his outrageous cash stash to work.
"Despite prices that have thwarted any major deals, Buffett has found stocks he likes," Bloomberg reports. "He purchased $12.6 billion of equity securities on a net basis during the third quarter, the most in more than four years."
Buffett's buying spree comes with a couple of caveats:
First, $12.6 billion isn't exactly a huge dent in Buffett's savings. But I do think it's somewhat telling that the Oracle was picking up shares of some of his favorite plays like Bank of America Corp. (NYSE:BAC) while many investors are wondering if the market's topping out.
Also, Buffett's biggest holding by far is Apple Inc. (NASDAQ:AAPL). Unless you've been living under a rock over the past week, you know Apple has taken a huge post-earnings hit. But something tells me Buffett's not concerned about his timing here. It will be interesting to see if Berkshire backs up the truck as Apple stock continues to retreat from its highs.
Speaking of Apple…
If you spell FAANG with an extra "A" for Apple shares, you're having a bad time this week.
The Nasdaq Composite finished in the red to kick off week while the Dow and S&P 500 both ended the day solidly in the green.
The FAANG unwind continues to drag on tech stocks. Apple encountered another barrage of sellers Monday following its Friday post-earnings drop of nearly 7%. It was the stock's worst single-day percentage drop since January 2014, MarketWatch reports.
Apple isn't the only mega-cap to hit the skids. Amazon.com (NASDAQ:AMZN) shares dropped nearly 4% intraday before recovering to close down roughly 2% on the day. Sellers rejected the stock right as it tried to break above its 200-day moving average.
Alphabet Inc. (NASDAQ:GOOGL) joined its flagging FANG cousins with a slide of 1.5%. Shares are now quickly trending toward their April lows.
Not all tech stocks are trending lower this week.
While the FAANGs continue to slide, one beaten-down industry is gunning for a quick comeback run.
Solar stocks have been some of the worst plays on the market lately. After topping out in the spring, the Invesco Solar ETF (NYSE:TAN) dropped a disastrous 30% in just five months to new 52-week lows.
But the selling now appears to be overdone. The solar sector has staged an impressive rally from its lows. Now it's looking to break free from the downtrend that has trapped shares since late May.
If the clouds part for solar, we could see more buyers test the waters in other speculative tech industries.
Sincerely,
Greg Guenthner