How Wealth Watch Makes You Money
Stocks enjoyed a nice rally after this year's midterms.
But this morning, volatility is back and indexes are ticking down again.
That said I still have plenty of faith in this market and I expect many stocks to roar higher to close out the year.
If you follow my advice, you have a strong chance of reaping significant gains during this surge.
Today I want to show you exactly how my Wealth Watch alerts could work for you.
Market Outlook A LOT Better Than Reported
My followers know I'm no fan of the lame-stream financial media.
It's not that they aren't entertaining. But let's be honest, they're here to entertain as much as report on the markets.
Stocks enjoyed a robust post-election rally Wednesday. The Dow jumped 545 points, or 2.1%.
As I briefed you earlier this week, despite today's down-tick we're now in the sweet spot for even more gains ahead in year three of the Presidential election cycle.
Why?
History shows us the S&P 500 has risen higher for six entire months after each of the last 18 midterm elections, gaining an average of 12%.
As you can see in the graph below, the period starting now through mid-2019, has historically led to super-charged upside for stocks.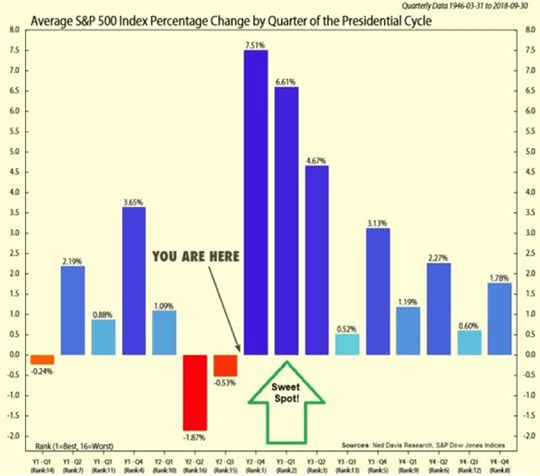 Stocks have already climbed a long way back off the recent lows. And, while it's possible the market could pull back to test the recent lows, history tells us that these powerful seasonal trends are very bullish right now.
So why do the talking heads on T.V. seem more doom and gloom by the day?
Your success is not their success. Mainstream pundits have no incentive to help you. They have incentive to help their networks.
You need advice from someone who has the same goals as you.
Which leads me to why Wealth Watch alerts could make you real money to bolster your bottom line, pad your savings or allow you to splurge a on something you've always wanted but previously couldn't afford.
Here's how.
Wealth Watch Ideas Paying Double-Digits Today
Many health care stocks are surging post earnings.
As an income play, health care is one of my favorite sectors. Which is why I recommend you take a swing on them in my Wealth Watch alerts from time to time.
For example, back in February I recommended adding Pfizer (NYSE: PFE) to your holdings.
On Feb 7, the stock was floating around $35. Fast forward to yesterday and shares were trading around $44 for roughly a 26% gain. And during that time you could have also collected a 3.08% dividend yield with an annualized payout of $1.36.
Here's another quick example.
Back in May I suggested taking a swing on Procter & Gamble (NYSE: PG) shares. On May 9, the stocks was trading for roughly $72. This morning it's trading for around $90. Roughly a 25% gain. And PG offers a stellar dividend with a yield of 3.14%, and annualized payout of $2.87.
Talk about easy money you can use to better your life in less than a year!
But that's exactly why my Wealth Watch alerts are so important. They can help you achieve your financial goals.
And don't forget about my premium Infinite Income and Amplified Income services either.
It's where I turn these double-digit winners into triple- and quadruple-digit wins!
Here's to growing your wealth,

Mike Burnick
Chief Income Expert, Mike Burnick's Wealth Watch
Editor's note: TRUMP Is Obsessed with Giving Out $40 Grand in Cash Per Taxpayer…
Trump has left breadcrumbs for over three decades. Recently he hinted about it on Facebook… Then he tweeted about it on Twitter…
Are you a taxpaying American? If you are, you need to see how to set yourself up to get YOUR ***rightful*** check… Click here now.