Can a Strong Cyber Monday Spark a Santa Rally?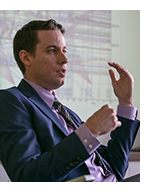 Stocks gapped higher early Monday morning and didn't look back as the major averages launched off their Thanksgiving lows.
The bruised and battered tech sector led the way, helping the Nasdaq Composite to a gain of more than 2%. The S&P and Dow weren't far behind, each posting gains close to 1.5%. Monday marked the ninth 1%-plus daily gain for the S&P 500 since it topped out nine weeks ago, Bespoke Investment Group notes.
Is another disappointing relief rally going to send more bulls to the slaughter? Or are we witnessing the makings of true Santa Rally?
Let's see if eager holiday shoppers have anything to say about it…
First up: Cyber Monday is officially becoming the biggest shopping event in the U.S.
Congrats to the Great American Consumer on another job well done!
Unproductive employees across the nation clicked their way to the best deals on the web yesterday, loading up on holiday gifts for friends, family, and pets.
As Black Friday dies a slow death, Cyber Monday sales continue to surge. Adobe Analytics said this year's online shopping festivities are set to generate $7.8 billion in sales. That's an 18% increase over last year's numbers.
Even the old-school retailers are getting in on the action. Macy's is scraping up any spare change it can find, offering "cyber week" deals until Wednesday, MarketWatch reports.
But Amazon remains ground zero for Cyber Monday shopping sprees. Amazon Prime featured the usual hodgepodge of weird and useless offerings on everything from evening primrose oil to travel pillows to digital meat thermometers. You even had the chance to get your hands on an Amazon in-home spying device and personal data aggregator Echo Plus for just $49.99. That's a 75% discount!
Unfortunately, all the Cyber Monday hoopla isn't translating into a big win for many big-name retail giants.
Walmart shares barely eked out a green close during yesterday's broad market rally. Despite a quick Monday bounce, Macy's shares remain stranded near their lows.
But the SPDR S&P Retail ETF (NYSE:XRT) did post its third-straight day of gains, finishing Monday's session up almost 2%.
Of course, Amazon is enjoying a nice little run to start the week. The e-commerce king finished the day up more than 5%.  But don't break out the bubbly just yet — as of Monday's close, shares remain in the red for the month.
As the holiday season kicks into gear, a struggling American car manufacturer is enjoying a modest rebound.
Shares of General Motors (NYSE:GM) are escaping stock market purgatory after the company announced plans to cut almost 15,000 jobs and end production at several domestic plants. The stock jumped almost 8% on the news and closed near 3-month highs.
Of course, not everyone is as excited as Wall Street about the news. Autoworkers are miffed that more jobs are disappearing, the Wall Street Journal reports. And the President is angry over the proposed plant closures.
"They better damn well open a new plant there very quickly," Trump told the Journal on Monday, referring to a conversation he had with GM CEO Mary Barra where he told her to stop making cars in China and build a new plant in Ohio.
If only we could have seen this coming…
Today's meaningless headline prize goes to Microsoft as it (briefly) overtakes Apple to become the most valuable company in the U.S.
Bears were quick to jump on Apple as the stock was unable to halt its slide late Monday morning despite strong comeback moves rippling through the tech sector.
"The slump took the company's market cap briefly below that of Microsoft Corp.'s on Monday, the first time in more than eight years that Microsoft was worth more by this metric," Bloomberg reports. "It was also the first time since 2013 that any company topped it, ever since Apple eclipsed Exxon Mobil Corp. in size."
But the Microsoft takeover was short lived. Apple shares rallied to finish the day higher by more than 1%.
Call me crazy, but I think it's ripe for a bounce here…
Speaking of bounces, risk-on sectors are leading the market higher early this week.
Financials, big tech, and even small-cap biotech took the lead during yesterday's rally. The SPDR S&P Biotech ETF (NYSE:XBI) we put on watch last week gained more than 2.3%. Now, we'll need to see some follow-through in these beaten down names to attract more buyers into the fray.
Futures are dipping into the red this morning as traders anticipate new trade war headlines. Trump and Chinese President Xi Jinping meet on Friday, so we can expect the rumor mill to crank out plenty of market-moving headlines all week. Let's do our best to shut out the noise as this relief rally develops.
Sincerely,
Greg Guenthner
PS: Tomorrow could be your last chance.
The war on marijuana is drawing to a close…You need to get in ASAP.