This Is Why You Want a Correction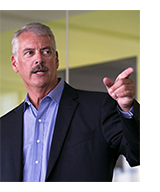 In an earlier Wealth Watch article this month, I pointed to the stock market's bullish breadth thrusts as the spark that set off the recent rally.
Not once but twice recently, more than 90% of total NYSE trading volume flowed into advancing stocks, with very few declining shares.
As I said at the time, "That's a rare double-barreled buy signal telling me the big money flowed back into stocks after a 20% correction."
And historically after a buying binge like that, the market trend continues higher over the next year about 90% of the time. Plus, stocks post much larger than average gains of 22%.
This compared with a gain of about 8% for any other random one-year period!
But the move won't necessarily be in a straight line. Expect pullbacks along the way.
After all, stocks have already come a long way and need a break.
Why a Correction Could Be Good for You
As of last Friday, the S&P 500 was up 13% from its late December low. It's been a nearly vertical ascent since then with only a handful of down days in between.
As a result, stocks are as overbought now as they were oversold in late December, as you can see in the chart below:
What does this mean for the market from here?
Since 1980, stocks have enjoyed about 30 breadth thrusts, very much like the recent one.
And while it's true that stocks have consistently moved higher one year after these bullish signals, it has not always been a straight move.
The Caveat
Within three–six months after one of these bullish buy signals, stocks often pull back to work off excess enthusiasm.
History says that on average, we could expect a correction of up to 4–6%. This happens about 80% of the time.
The good news is these pullbacks often come within the first five or six weeks of the rally.
That's why I would not be surprised at all to see a minor stock market correction in the weeks ahead.
But rest assured there's nothing to panic about.
Some weak-handed investors will get scared out of the market in a panic.
But if you're patient and stick to the strategies I suggest in Wealth Watch, that pullback will create a terrific buying opportunity for you.
Here's to growing your wealth,

Mike Burnick
Chief Income Expert, Mike Burnick's Wealth Watch
Editor's note: Because of the confidential nature of this short video…
We'll be removing it from the internet tomorrow at midnight. And because this video could change the rest of your life…
You need to set aside 90 seconds to watch it right away. Click here now to view it.
TOPICS |
Bear
,
Breadth Thrusts
,
bull
,
Correction
,
income
,
investing
,
management
,
money
,
Stocks
,
Strategies
,
wealth