Pot's Craft Beer Dilemma
The major averages are inching higher early this morning as several media reports reveal a possible trade deal between the US and China.
The two powers are in the "final stages" of completing a trade deal, The Wall Street Journal reports, "with Beijing offering to lower tariffs and other restrictions on American farm, chemical, auto and other products and Washington considering removing most, if not all, sanctions levied against Chinese products since last year."
Just one week ago, the White House successfully kicked the can on the trade war. If these new reports are accurate, we could now see a formal summit and official trade agreement by the end of the month, effectively lifting one of the major economic black clouds dogging the market since Trump took office.
As always, I will continue to focus on the market's reaction to how this news develops. I noted toward the end of February that anything is possible — including a trade deal becoming a "sell the news" event. Remember, stocks have rallied despite the trade war in the past, so we can't discount a potential retreat if the trade war skies clear later this month.
Turning to the markets, I apparently struck a non-political nerve with my beer bashing last week.
On Friday, we laid out some cold, hard truths about the younger generation ditching old-school alcohol brands in favor of greener forms of entertainment. Yet some remain skeptical of this theory.
"Couldn't it also be that more people are drinking craft beers from local breweries?" a reader asks. "Thinking this has to be eating into their profits as much as the green bud does…"
Sure, the mass proliferation of your friendly neighborhood brewpub is part of the problem for American light beers. But there are other forces at play.
For the record, I'm not the only one bashing Big Beer. Industry analysts have said 2018 was the worst year for beer sales in a decade. Even Bloomberg is on the case, noting an "air of desperation that is floating over the U.S. industry as consumption slides and the largest brands languish amid pressure from hard seltzer, wine and even legal cannabis."
The accompanying chart tells the story:
The craft beer segment is clearly growing. But the bigger culprit right now appears to be liquors and the alcoholic seltzers that are taking the market by storm.
[Editor's note: The war on marijuana is drawing to a close, and this could be your last chance to turn mere pocket change into a FORTUNE. Click here to get in now.]
I'm curious to see if the craft beer movement can continue to thrive in a world where more young drinkers are counting calories and shunning hangovers. After all, the craft beers are generally much denser and have a higher alcohol content than their macro brew cousins.
On the flip side, it's possible we're entirely underestimating Big Beer's chances at a major comeback. On Friday, I highlighted the dreadful performance of Anheuser-Busch InBev (NYSE:BUD) stock over the past two years. What I didn't mention was BUD's bottoming action over the past four months that culminated in an impressive earnings beat to close out the trading week.
BUD reported higher than expected fourth-quarter earnings, Reuters notes. Even more peculiar is the fact that Anheuser-Busch InBev expects strong growth during the 2019 fiscal year. This development directly contradicts the narrative spreading through the financial media.
Macro beers will almost certainly continue to face pressure from the rise of cannabis and competing beverages. But BUD could consolidate Friday's gains and still give us a shot at a short-term trade soon enough.
Bottom line: If we approach these plays with an open mind, we'll find the profitable trades no one else is looking for…
Finally, let's check in on our short-term trading portfolio as we kick off the new trading week.
Speaking of bottoming stocks, your JD.com Inc. (NASDAQ:JD) trade accelerated last week, matching its September highs and pushing your open gains above 15%. I suspect this stock could run into a little resistance at these levels, so let's take this opportunity to ring the register and sell half our position this morning.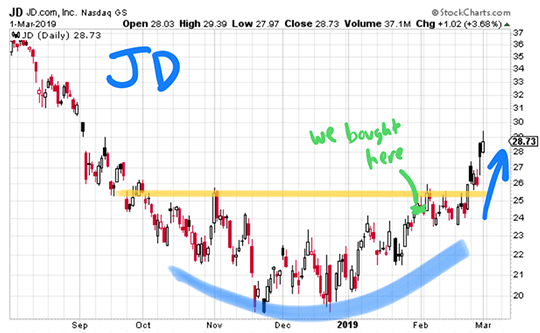 When we hopped onboard this trade just four weeks ago, Chinese stocks were starting to catch a bid after getting absolutely crushed last year. The snapback potential turned into one of the cleanest bottoming formations you'll ever see. Congrats on the fast gains!
Did you miss this trade? Get my next potentially profitable pick by clicking here.
Sincerely,
Greg Guenthner