Legal Weed Breaks Out
With the potential for a brand-new wave of marijuana legalization sweeping the U.S., there's never been a better time to invest in pot stocks for huge, lightning-fast gains.
I'm talking the kind of gains that could kick-start your retirement in just a month…
And at the rate at which the marijuana industry is taking off, you can't afford to waste any time.
Long term, the trend for pot stocks is incredibly positive, as you can see in the North American pot stock index three-year chart below:
Marijuana legalization continues to spread across the country like wildfire.
In a last-ditch attempt to make living in New Jersey bearable, state leaders have finally agreed to legalize recreational marijuana.
"The Democrats announced the agreement in a statement Tuesday after more than a year of negotiations, mostly behind closed doors," the AP reports. "It's unclear whether there are enough votes in the Democratic-controlled legislature to pass the bill, but the agreement marks the first time leaders have laid out the details of the plan."
If the measure passes, New Jersey will become the 11th state (plus Washington, D.C.) to fully legalize cannabis.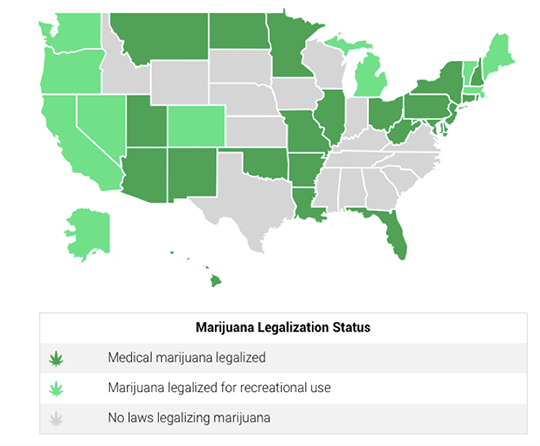 "Pot politics are front and center in the 2020 election season, with a growing stable of Democratic candidates coming out explicitly in favor of federal legalization," our own industry expert, Ray Blanco, says.
"Recent polls show that more than two-thirds of Americans are now in favor of marijuana legalization," Ray continues. "That's a dramatic shift over where acceptance of pro-cannabis policies was just five or 10 years ago. And politicians are realizing that getting on the wrong side of the issue could cost them a lot come election time."
Simply put, it's an incredibly exciting time to be a pot investor. And as legal cannabis takes center stage during the upcoming election cycle, Ray says we can likely expect some big profit opportunities ahead.
Meanwhile, our own pot trade is gearing up for a big breakout.
Canopy Growth Corp. (NYSE: CGC) perked up Tuesday, gaining nearly 4% as it pushed toward the top of its range.
A breakout appears imminent as the stock approaches resistance:
A breakout toward $50 could very well launch the next leg of Canopy's comeback move that began in early January, setting you up for fast double-digit gains.
For Technology Profits Daily,

Greg Guenthner
Chief Trading Expert