WALL STREET: "Be Careful What You Wish For…"
File this under: "Be careful what you wish for."
After the fourth-quarter 2018 sell-off, culminating in a dismal December crash, investors hoped the Fed would stand aside and stop raising interest rates.
Well, that wish was granted when the Fed did an abrupt about-face in January.
And last week the Fed doubled down on this, promising no more interest rate hikes at all this year.
In fact, odds are running high the Fed's next move will be to cut the fed funds rate before the year is out.
But instead of being relieved by the Fed's reversal, markets panicked last week because of the implication: a rapidly slowing economy.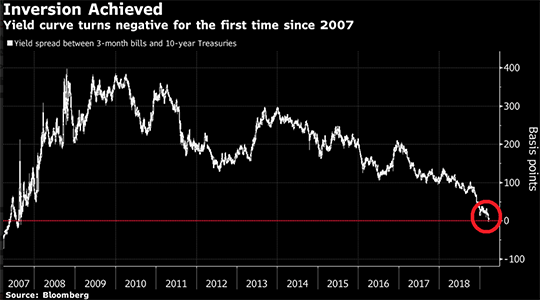 A picture is worth a thousand words and the graph above says it all…
An inverted Treasury yield curve for the first time since 2007. Just like before the last recession and bear market in stocks!
Be Careful What You Wish For…
Of course, the talking heads in the financial press were out in force to explain what it all means. But all these explanations were bad.
Here's what you need to know.
Last week, interest rates on the benchmark 10-year Treasury note fell to 2.4%, which is now BELOW the yield on the 90-day Treasury bill, which stands at 2.46%.
That may not sound like a big deal — it's only a difference of 0.06% — but that negative (or inverted) yield spread means a lot in the concrete canyons of Wall Street.
Think of It This Way…
The foundation for success in modern finance is to borrow money cheaply at short-term rates and then lend the money out at higher long-term rates. Then you pocket the difference as profit.
That makes it pretty clear… A bank (the Fed) borrowing at 2.46% and lending at just 2.4% is a money-losing proposition!
A Charles Schwab analyst put it this way in a Bloomberg interview: "It's clearly a sign that the market is worried about growth and moving into Treasuries from riskier asset classes."
But here's what most of the talking heads left out of the inverted yield curve discussion.
Long lead time: An inverted yield curve often has a long lead time before the onset of recession. Typically, there is a 12–18-month delay after inversion before the economy rolls over. And stocks don't crash and burn overnight, either.
In fact… the best is yet to come.
During that 18-month delay the yield curve inverts, stocks have historically posted some of the very best returns of the entire bull market cycle. Specifically, the S&P 500 has gained a median 45% in value over the final two years of the market cycle.
Bottom line: A yield curve inversion has indeed preceded nearly every recession in recent history, including the last in 2007. It's an indicator to keep an eye on, but not panic about.
If the curve stays inverted in the coming months, odds still say the economy won't roll over for another 12 months or more.
Plus, stocks could post incredible gains during that period.
Don't leave the party too soon!
Here's to growing your wealth,

Mike Burnick
Chief Income Expert, Mike Burnick's Wealth Watch