Gainfully Employed
More of your opinions:
"The Founding Fathers looked at how monarchies used standing armies and took a bold and new approach: armies of the federal government cannot enforce the law.
"No federal army may enforce actions in the United States on U.S. citizens… your individual rights depend on it. (Take, for example, Venezuela where the standing army is doing the dirty work for the ruling class.)
"Look at history and see what a visionary concept this was, how unique it is currently in the world and how free you have been because of it."
Commenting on feedback at The Rundown earlier this week, a reader writes:
"I was fascinated by the pro-gun monologue that citizens owning guns would prevent a standing army from taking control of the country… that's like saying the Boy Scouts could defend against the U.S. Marines!
"If the government wanted to take over, they'd have no fear of individuals having a few handguns, rifles or even semi-automatics; they'd be useless against mortar rounds, tanks, etc."
I'm not trying to put words in the mouth of our contributor, but we think his point is exactly that: how far we've strayed from the Constitution's original intent. (Some believe that's not a bad thing.)
When a government doesn't have a healthy fear of its people… is that a slippery slope?
Your Rundown for Thursday, April 4, 2019:
Gainfully Employed
The Labor Department released initial claims for state unemployment benefits for the week ending Mar. 30 — the lowest number of claims since Dec. 1969.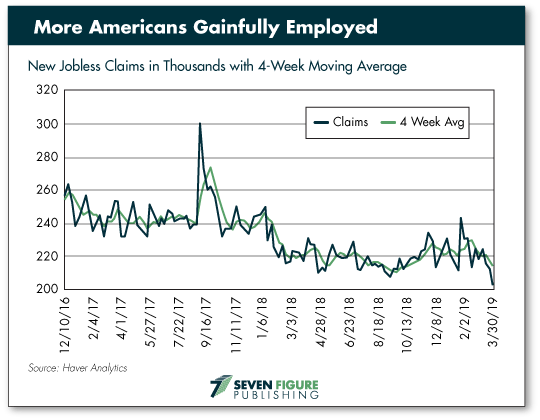 "Today's report opens the way for optimism ahead of tomorrow's employment report which is coming off the most the unsettling signal of trouble for the labor market in a long time," says Econoday, "February's marginal nonfarm payroll increase of 20,000…." Meaning only 20,000 jobs were added to the economy in February.
Why jobless claims matter to you as an investor?
Jobless claims are a shorthand way to assess the economy; fewer people applying for unemployment should mean more people have jobs (though not always… these stats might exclude people who've just given up looking for work).
Every American with a job represents spending power. And "spending greases the wheels of the economy and keeps it growing," Econoday says, "so a stronger job market generates a healthier economy."
For the economy to be in a sweet spot, however, job seekers can't drop to such a low level that employers have a difficult time filling vacant positions. That leads to wage inflation as business owners have to spend more to attract employees.
Wage inflation looks menacing? Pretty safe bet the Fed will raise interest rates, putting pressure on stocks and bonds.
Tune into these stats so you can better anticipate the ups and downs of the economy and fine-tune your portfolio accordingly.
Market Rundown for Thurs. April 4, 2019
S&P 500 is up 4 points to 2,877.
Oil is down 40 cents to $62.06 a barrel.
Gold's down $6.40 to $1,288.90 per ounce.
Bitcoin is up $62.25 to $5,004.71.
Have a good day. We'll talk tomorrow.
For the Rundown,

Aaron Gentzler