The Trade War Turns Against Tech
The major averages posted their second straight day of gains following the White House's decision to delay enacting a 20% tariff on auto imports from Europe — a threat that Trump considered his "most important weapon" in the trade war just one year ago.
But it's technology — not the auto market — that's emerging as the next trade war battlefield.
Trump signed an order late Wednesday that aims to ban telecom equipment from foreign adversaries, the Associated Press reports, "in a move apparently targeted at China's Huawei Technologies."
"While [the executive order] doesn't name specific countries or companies, it follows months of U.S. pressure on Huawei, the world's biggest supplier of network gear," MarketWatch notes. "A ban would also affect China-based ZTE Corp., which saw its stock tumble in Hong Kong trading."
Given the political tensions stemming from the arrest of the firm's CFO in Canada late last year and accusations of espionage, Huawei is likely to remain top-dog in China as East and West segregate their tech, even as Huawei fights for global 5G leadership. Trump's new order appears to cement this theory.
Let's not forget that the company logged its best year ever with a reported $107 billion in revenue in 2018. Huawei will probably come out of this mess just fine as it continues to dominate China's smartphone and tablet markets — no matter how the trade war shakes out.
Turning to the markets, futures have recovered from the Trump's surprise executive order.
Stocks are pushing for a green open this morning as Asian and European markets fight into positive territory. The 2,800 area I highlighted on the S&P yesterday is holding up just fine. Remember, a bounce at these levels will probably lead to a bigger rally, while failure might trigger the next wave of selling. Nothing to cause alarm just yet…
Meanwhile, high-profile IPOs are making moves.
Uber Technologies Inc. (NASDAQ:UBER) snapped out of its funk yesterday, gaining more than 3% to post its second-straight day of gains following its disastrous debut on the Nasdaq late last week.
The ride-hailing company's long journey to Wall Street was supposed to reinvigorate an IPO market that recently found itself on the ropes following the Lyft Inc. (NASDAQ:LYFT) debacle. Speaking of Lyft, this poor little stock also enjoyed a nice rebound yesterday, gaining nearly 7% by the closing bell.
Perhaps the ride-hailing stocks are back in fashion thanks to the media's obsession with celebrity wealth. You've probably seen several fluff pieces on music icon Beyoncé's Uber haul. In 2015, Beyoncé was asked to perform at an Uber event for $6 million. While that's quite the chunk of change to play a show, Beyoncé eschewed that payment for equity in the company, Yahoo Finance notes.
While estimates were all over the map, those shares could be worth around $9 million after Uber's IPO on Friday.
Beyoncé was not the only celebrity investor, Forbes reports. Leonardo DiCaprio and Gwyneth Paltrow among others have also reportedly invested in Uber. Ashton Kutcher was also an early investor.
Now, we're seeing the celebrity bandwagon shift to the fake meat stocks as the veggie burger hype escalates.
High-profile celebs such as Leonardo DiCaprio are now piling into fake meat frontrunner Impossible Foods as the company preps for its public market debut. It's no surprise why…
Competitor Beyond Meat (NASDAQ:BYND) is screaming to new highs again this week after Tim Hortons announced that they'll be adding Beyond Meat products to their repertoire of breakfast foods, reports CNBC.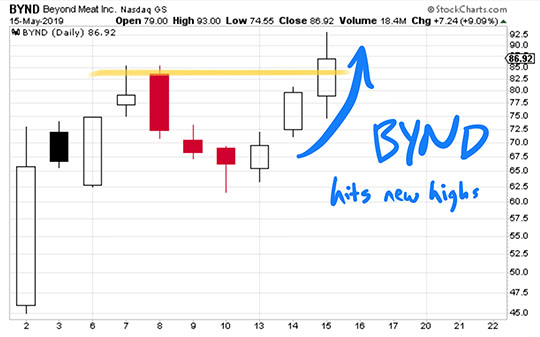 The Canadian chain is testing out plant-based sausage alternatives in a few stores to gauge interest (and I'd say people are certainly interested). Among the new products are the Beyond Meat Farmers Breakfast Wrap and the Beyond Meat Vegan Sandwich.
It's also worth noting that Tim Hortons is owned by Restaurant Brands International, which also owns Burger King. We recently reported on Burger King's first successful foray into the meatless market with the Impossible Whopper.
I predict this won't be the last restaurant conglomerate to jump on the fake meat fad. This trend has the potential to turn the entire food business on its head.
Sincerely,
Greg Guenthner