Slacker Renaissance
"I enjoy reading The Rundown and normally find most readers' comments to be well-reasoned, regardless of their position," a reader writes.
But…
"Your reader's comment about anyone being able to buy an automatic weapon is simply false and a clear example of an uneducated, emotional response to a hotly-debated topic. 
"Buying an automatic weapon is already illegal unless you have met special licensing criteria which tend to be extremely difficult. 
"Many people go onto a public forum spouting misinformation which leads me to believe they are either uneducated about the topic or deliberately disingenuous in order to push an agenda." 
As for Facebook's foray into digital currency…
"If [Facebook] tied its digital coin to a basket of legitimate currencies, the speculators could not speculate with it any more than currency speculators do."
Your Rundown for Friday, June 21, 2019:
Slack and the IPO Renaissance
The workplace messaging company Slack made a stealth move yesterday — the tech company made its IPO debut without the usual fanfare.
That's because of its non-traditional direct listing, meaning Slack simply left the bankers out of it.
Market Watch says: "Slack's [WORK]… set its reference price at $26 per share late Wednesday, suggesting a market valuation of $15.7 billion. It opened at $38.50 on Thursday, and has soared 58% to $41.26.
"Slack's direct listing is the latest indication that tech stocks remain in strong demand on public markets despite the missteps of its two biggest IPOs this year." You got it: Uber and Lyft.
In fact, the Renaissance IPO ETF (ARCA) has gained 39% in 2019 to date…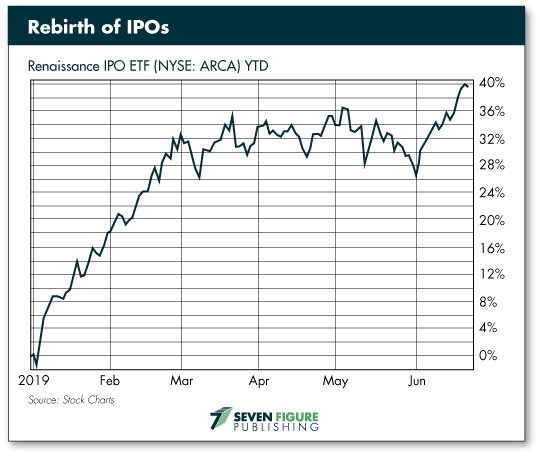 In just half a year, 66 IPOs have raised a combined $26.7 billion; this time last year, 82 IPOs raised $25 billion. In 2017,a total of 66 IPOs raised $17.5 billion.
According to an article at Wired: "Together… [tech] IPOs suggest that even as the consumer tech market is dominated by Apple, Amazon, Facebook, and Google, companies that sell to businesses can still find ways to compete with the big guys,"
Market Rundown for Fri. June 21, 2019
S&P 500 futures up down 9 points to 2,947.00.
Oil is up 8 cents to $57.15 for a barrel of WTI.
Gold is up $5.10 per ounce… and just broke above $1,400.
Bitcoin's added $343.31 to its price of $9,881.05. Think it'll move above $10,000 over the weekend?
Have a relaxing weekend. Make sure to check out the best-of issue of The Rundown tomorrow.
For the Rundown,

Aaron Gentzler