Use This Simple-to-Follow Rule to Trade Better
Wherever I go, folks always ask me: "Do the markets look strong right now?"
It's not a bad question. There aren't bad questions. But they point to the fact that many folks simply don't have the knowledge and tools to make basic market decisions on their own.
Being able to determine the market's relative strength is easy to learn and will instantly make you a better investor.
Let's get started.
Measuring Relative Strength
Relative strength is a technical rule of thumb I use to measure the relative price strength of a stock or an entire sector against a broad index, like the S&P 500.
Here you can see the price trend of the iShares Semiconductor ETF (SOXX) (blue line) compared with the S&P (black line).
[[You can use StockCharts.com to access the same charts used in this example today.]]
As you can see in the chart, we identified a strong uptrend (yellow lines) in place for semi stocks throughout 2017.
That means the sector was leading the overall market higher, a bullish sign. And it also indicates a sector you may want to own a stake in.
But notice how in the second half of 2018 SOXX's relative strength breaks down as compared with the S&P 500.
Remember, the entire market declined around that time, but the S&P 500 recovered much faster over the next six months and posted new record highs.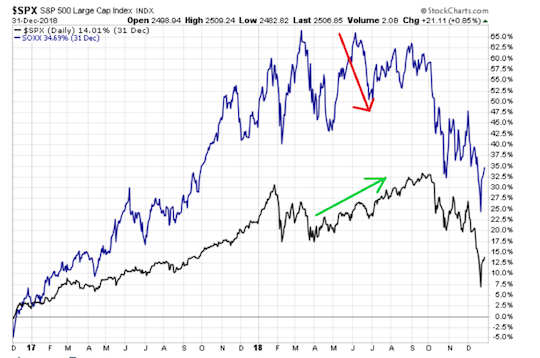 The semi sector never recovered to regain market leadership either. That was a good early warning sign to steer clear of semi stocks.
And it was a sell signal that you could have acted on well before the overall market began its steep dive last October.
Also, notice how relative strength flagged a new buy signal for SOXX in December 2018 (shaded area).
That was a great early indicator this sector, as well as the overall market, had bottomed out and was finally about to rebound.
You see, when markets hit a bottom it means many stocks are undervalued, oversold and trading at big discounts. Savvy investors look to buy into markets at the bottom because it offers them the best potential for the biggest profits, i.e., a perfect buy signal (green circles).
And in the first half of 2019 SOXX gained 50% and restored its position as a market leader.
Bottom line: Want to know if a sector or stock looks strong? Keep a watchful eye on the relative strength for any stock or ETF you own.
If a stock's relative strength starts to break down, consider selling.
Or at least set a protective stop. You'll save yourself a lot of pain and lost money when you do.
Here's to growing your wealth,

Mike Burnick
Chief Income Expert, Mike Burnick's Wealth Watch