FLASH BUY: 2 New Biotechs
Breaking news in the biotech space today, folks, and we're going to have to move fast to profit.
This morning AbbVie (NYSE: ABBV) announced it would purchase Allergan Plc (NYSE: AGN), the well-known maker of Botox.
The deal is valued at $63 billion and would give AbbVie a controlling stake over a company that makes one of the most popular medical cosmetic products ever created.
Specifics of the deal are as follows…
Allergan shareholders will receive 0.8660 AbbVie shares and $120.30 in cash for each share of Allergan. The deal places AGN shares at a value of $188.24, as reported by Reuters.
AbbVie, the maker of Humira, now has two incredibly high-grossing therapies in its arsenal.
Total sales for Humira reached almost $20 billion last year. Medtechy reports Allergan banked $880 million in sales from its anchor brand in 2018.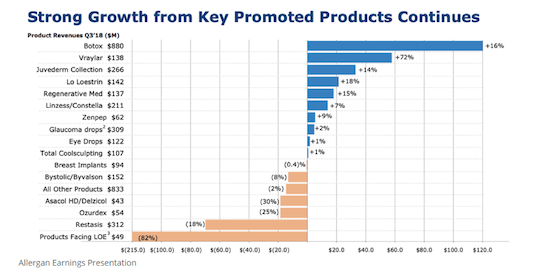 In total, Allergan's product line generated $15.8 billion in net revenue last year.
The news further conforms a biotech trend I've emphasized all year.
Smaller biotechs are going to get snatched up left and right. And folks who make timely buys on these companies stand to book double-digit gains left and right, too.
Here's how we're going to play things.
Slow-Burning Profits
AbbVie needed a boost to its product line and badly. Humira is one of the most successful drugs ever. But it's facing stiff competition from European rivals and revenue from its anchor therapy has decreased recently.
The deal makes sense from their end. But as happens very often with big acquisitions, AbbVie (the buyer) is seeing a drop in its share values.
This morning AbbVie shares were down almost 15%.
Wall Street hates when companies spend money. Even when it's good for the long run.
Sure, at $188 per share AbbVie is paying a premium for AGN, but by AbbVie adding Botox to its line of products through the deal, they have given themselves the perfect hedge for slipping Humira sales.
Long term, we like this move a lot. And the penny pinchers on Wall Street are overreacting to the $63 billion price tag.
It's almost as if the Street forgot that Pfizer almost spent $160 billion on Allergan a few years back.
$63 billion is a drop in the bucket compared with that.
But we'll prey on the skittish here. You should consider grabbing AbbVie on the discount and holding till the Botox revenue starts filling the coffers.
Now for your flash-action play.
You Have to Act Fast on AGN
Ahead of today's open AGN was surging, up almost 30%. Shares this afternoon are trading around $164.
There's still room to grow. But you have to act fast. Consider grabbing a stake ahead of the ink drying.
But also be wary…
If prices shoot near the $188 price point, it may be too late for the big score.
Mid- and small-cap biotechs are in prime position for acquisition as Big Pharma scrambles to diversify their product portfolios. This is opening up the door for flash-action wins all around us.
Up next are gains with AGN — if you act fast.
For Technology Profits Daily,

Ray Blanco
Chief Technology Expert, Technology Profits Daily