How to Find Quality Stocks in Surprising Sectors
Investors have plenty of things to worry about these days: Trade war fears, slowing global trade and economic growth, and geopolitical tensions like what we have with North Korea and Iran that could erupt into war.
Another worry is the inverted yield curve which often precedes an economic recession and the end of this decade-long bull market in stocks.
Another nerve-wracking signal is that earnings estimates have fallen sharply, indicating an earnings recession may already be reality.
Surprisingly, there is a silver-lining to these gathering dark clouds, and no I'm not talking about precious metals (although I'm bullish on them too)…
Quality Is Your Best Bet
I'm talking about high-quality, dividend paying defensive stocks, which have consistently outperformed lower quality shares for years.
And now with volatility rising and earnings estimates falling, quality is really outperforming the market.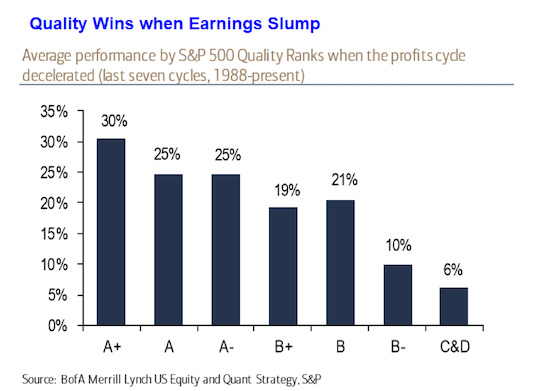 Granted, I've harped on the need to own quality stocks for years now, but it's worth repeating.
That's because at this point in the market cycle quality stocks outperform everything else, and by a very wide margin.
Plus, quality will save your skin come the next big market decline.
What Are Quality Stocks?
Quality stocks are those shares that earn an S&P common stock ranking of B+ or better, although I prefer A or better. That's a key measure of the stability and growth potential of a company's sales, earnings and dividends.
As a group, these stocks have outperformed lower-quality stocks (B or lower) by an incredible 27.7% over the past five years and by nearly 21% over the past decade!
The performance of quality stocks lagged a bit over the last few years, but during the last volatile 12 months, quality large-cap stocks still beat the market nearly 3-to-1.
Where in This Market Is Quality to Be Found?
The answer to that may surprise you.
Within the S&P 500 index, the highest-quality sectors, those with the most stocks ranked B+ or better, include: Industrials, Financials and Consumer Discretionary.
You might not think that boring old economy companies in the Industrial sector would be high quality, but you'd be wrong.
These stocks are doubly attractive right now because many industrial stocks were sold off on trade war fears.
One of my favorites in the sector right now is United Technologies (NYSE: UTX).
UTX earns an A rating for quality and pays you a nice dividend of 2.3%.
That's comfortably ahead of the S&P 500 average yield and miles ahead of most low-quality stocks.
I urge you to consider adding UTX to your own portfolio.
Here's to growing your wealth,

Mike Burnick
Chief Income Expert, Mike Burnick's Wealth Watch