1 Stock to Shine in the Biotech Renaissance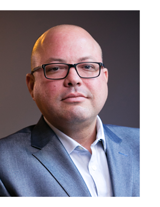 Right now, we're experiencing a once-in-a-century event. Not since the Spanish flu in the 1910s has a disease turned society on its head.
With the COVID-19 pandemic still raging throughout the world, with new lockdowns being put in place… everyone keeps hoping for the one thing that can bring life back to normal — a vaccine.
Because of this need for a vaccine, all eyes are on the biotech sector.
And small biotech names that are often overlooked by the markets are getting attention they wouldn't have otherwise got.
Today, I'm going to show you one way you can profit from the upswing in the entire biotech sector.
And I'm not talking about buying into Big Pharma. There is a much more lucrative profit opportunity by staying small…
Huge Potential in Small Caps
Small-cap stocks always have much more to gain from breakthrough clinical trials and treatments.
Just look at the recent price action of Pfizer Inc. (NYSE: PFE) and Moderna Inc. (NASDAQ: MRNA).
Both have developed mRNA vaccines with huge promise — Pfizer's has already been approved for distribution in the U.K.
Both Pfizer's and Moderna's vaccine candidates appear to be on the path to get emergency use approval. This is huge. That means that by the end of the year both companies could be distributing their vaccines to people who need it most right now: front-line workers and those at high risk for contracting serious COVID symptoms.
News surrounding the vaccines has resulted in a pop in the share prices for both companies… but the gains are not equal…
Even though Pfizer's candidate is technically closer to emergency approval in the U.S., its stock is only up over 13% from a year ago.
Moderna's stock, on the other hand, is up over 600% because of the size of the company.
Smaller stocks especially have a lot to gain from both biotech catalysts and as things get back to normal.
And right now they are on the rise for the first time in a while — just reaching their all-time highs this November.
This is where the Defiance Nasdaq Junior Biotechnology ETF (NASDAQ: IBBJ) comes in.
IBBJ marries the best of both small-cap and biotech stocks by holding a variety of small-cap biotechs with great potential.
Defiance is known for creating tech-trend ETFs like FIVG, a 5G ETF; QTUM, a quantum computing ETF; and SPAK, a SPAC merger ETF.
IBBJ is a basket of small-cap biotech stocks that allows an investor to get exposure to the sector without having to manage the portfolio themselves.
(To see all the stocks in IBBJ click here.)
There's a lot to be excited about in both biotech and small-cap stocks out there.
I highly encourage you to talk to your broker and see if IBBJ is right for your portfolio.
Consider purchasing shares today!
As always, any feedback is welcome. Shoot me an email at AskRay@SevenFigurePublishing.com with any thoughts or questions you may have.
To a bright future,
Ray Blanco