AOC Breaks Ranks With Dems ("Wealth" Tax)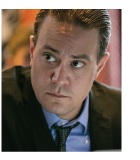 It's been several weeks now since we last checked in on the Cuomo scandal in New York.
To wit, out this morning is "Cuomo's Favorability, Job Performance & Re-Elect Ratings" from Siena College Research Institute, showing for the first time since he became governor in 2011, more than half of polled New Yorkers view Cuomo unfavorably.
"On the other hand, a majority of voters – including Democrats by two-to-one and a plurality of independents – continue to say that Cuomo should not resign, and a similar majority say he can still effectively do his job as governor," says Siena College pollster Steve Greenberg.
But as for his re-election outlook (there's no limit to the number of consecutive terms a New York governor can serve) Cuomo conceded a number of votes.
"Democrats say they would re-elect Cuomo next year by the narrowest of margins, 46-43%," Greenberg says. "In February, Democrats were prepared to re-elect Cuomo 65-26%."
We'll continue to follow this story as it unfolds. And for more news that's consequential for New Yorkers, read on…
Send your opinions to, TheRundownFeedback@SevenFigurePublishing.com.
Your Rundown for Monday, April 19, 2021…
AOC Defies the SALT-Cap Repeal
"A group of seven Democratic governors is… urging President Biden to repeal the Trump-era cap on state and local tax (SALT) deductions," says an article at The Hill.
The letter was signed by governors of New Jersey, Connecticut, Hawaii, Illinois and Oregon as well as beleaguered Governors Newsom (CA) and Cuomo (NY).
"We must go further and undo the cap placed on State and Local Tax (SALT) deductions by the Trump Administration through the Tax Cuts and Jobs Act in 2017," the governors said.
If you recall, the TCJA capped SALT deductions at $10,000… and for high-tax states (mostly blue, by the way) state and local taxes can easily exceed $10,000 annually.
The governors' letter continues, saying it "was heartening to hear Treasury Secretary Yellen agree to work with Congress to ease the $10,000 cap on SALT recently," but Team Biden and Congress should "continue these efforts to relieve this immense financial burden on our residents and eliminate the SALT cap entirely."
But one vehement opponent of the SALT-cap repeal is Rep. Alexandria Ocasio Cortez (D: NY) who calls the repeal a "gift to billionaires" and a "giveaway to the rich."
Cortez is even breaking ranks with members of her own party who are using the SALT-cap repeal as a bargaining chip with Biden: no tax repeal, no infrastructure approval.
But would a SALT-cap repeal only benefit the wealthy?
Consider Rep. Cortez's own district — New York's 14th congressional — which encompasses parts of NYC boroughs the Bronx and Queens where the average annual salary is $66,000. Consider too NYC residents pay some of the highest state and local taxes in the state/country (plus a 8.9% sales tax).
Our takeaway? Eliminating the SALT cap wouldn't merely benefit the ultra-wealthy.
What do you say, reader? Weigh in… especially if you're a normal American living in a state with exorbitant taxes. We want to hear from you…
Market Rundown for Monday, April 19, 2021
S&P 500 futures are down 6 points to 4,180.
Oil is up 42 cents to $63.55 for a barrel of West Texas Intermediate.
Gold is down $7.60 to $1,772.60 per ounce.
Bitcoin is up 1.2% to $56,451.
Send your comments and questions to, TheRundownFeedback@SevenFigurePublishing.com.
We hope your week's off to a good start… We'll talk more Wednesday.
For the Rundown,

Aaron Gentzler