Don't Get Caught in the Earnings Season Chop!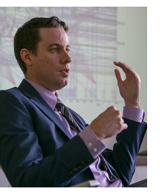 Last night was all about Tesla earnings — as it was the first of the mega-cap tech darlings to report this quarter. The company beat earnings estimates, grew revenue by nearly 75%, and sold some of its bitcoin. That last piece of info might be an issue for some folks, which might be why TSLA is down about 4% so far despite its strong report.
Overall, it does not appear that the earnings report has swayed the herd's opinion on tech stocks. Even though the Nasdaq appears to be consolidating today, it outperformed both the Dow and S&P yesterday.
In fact, the Dow slipped into the red yesterday, even as the Nasdaq plowed higher. Semiconductors were especially strong. Plus, a nice 2% courtesy of Amazon looks like it might lead to a major breakout in the little online book store.
Amazon had been consolidating sideways for nine months! Most of the "big tech" names went crazy last summer, topped out just before Labor Day, and haven't really participated in the rally since then. Instead, we had GameStop mania — speculative runners dominating the tape.
I think what we're seeing now is all part of the rotation back into "safer" stocks as the speculative unwind continues. Yes, we're still in the throes of a massive surge higher in crypto, and I suppose we can categorize that as speculative action.
But as far as the stock market is concerned, the crazier plays are settling down. In fact, they have been slipping since February. Along with the rotation into small-caps, industrials, materials, we're also seeing some of these FANG+ mega caps catch a bid.
Today's Trade Update
No new trade today.
Still slippery out there so I'm not interested in putting on any new names.
Let's see if GDX can hang onto this reversal… also looking for QFIN to halt its slide.
I'll be back bright and early tomorrow morning. Don't get caught in the earnings season chop!
Happy trading,

Greg
P.S. Matt and I had a lot of fun during Sunday night's trade talk.
If you missed us live, you can watch it here
Passcode: ?3Fg1bjN
We went over a ton of interesting charts. I think it's safe to say that there are plenty of opportunities in this market…